Pumpkin Pandemonium!

Let's take pumpkins! I love this time of year and I love pumpkins. I love their little chubby round shape, their festive colors, and oh that marvelous, festive fall flavor! What better time would there be to discuss this amazing squash, gord, whatever it is!
First,
Pumpkin Pie Spice
.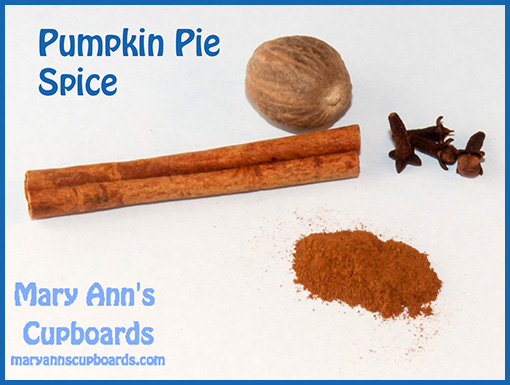 Pumpkin pie spice is the flavor of fall, but what exactly is it? As you can see in the picture here it is a spice blend that is usually purchased pre-ground and ready for use. It's strongest flavors come from the big three you see here and one regretfully not shown: Cinnamon, Nutmeg, Cloves, and Ginger in varying amounts. You can easily mix up your own version of this spice blend by mixing up the following amounts of ground spices at home:
Homemade Pumpkin Pie Spice
2 parts ground Nutmeg
2 parts ground ginger
1 part ground cloves
6-8 parts ground cinnamon
Just mix in a bowl with a dry wire whisk and store in an airtight container.
Whats more, if you feel ambitious, you can get the whole spices and grind them up yourself in a coffee grinder (or micro rasp for the nutmeg). My coffee grinder is for herbs and spices only (you shouldn't grind coffee and herbs in the same grinder or the coffee with overpower and ruin the herb flavors.) I do this with all my pepper, black and white. It makes a HUGE difference in flavor.
The reasons?
Once a whole spice is ground the
essential oils
that carry the flavor are exposed to the air. Once this happens they have a finite amount of time before they lose all their vital flavor because the oils evaporate off. This is very noticeable with nutmeg and black peppercorns and is an easy experiment you can do. Just buy some whole peppercorns and crush them with a hammer then compare the smell to the shaker of pepper you have had on the kitchen table for 3 years.
What to do about it?
It is not necessary to go the extra mile and buy and grate your own spices though. You just need to follow a few rules...
Spice Storage guidelines:
Keep your ground spices in airtight containers. This is very important as it prevents the essential oils from evaporating away.
Keep those airtight bottles in a dark, even temperature (between 60-75degrees) cupboard or drawer.
Smell them when you get them. Know what fresh spices or spice blends are supposed to smell like and replace when necessary.
Our shop here at Mary Ann's Cupboards sells some excellent herbs and spices, and I am not just saying so. I am very picky when it comes to herbs and some of the best spices I have seen so far have come from here. Especially the curry powder and the pumpkin pie spice.
Ok, enough about spices...Let's Use 'Em! I wanted to share the blogs from the past that we have here with excellent pumpkin recipes in one place. Happy Fall Baking and Making!
Tags:
pumpkin
fall
harvest
recipes
For all news items click here
News Releases
Online Classes
Eat Better for Less E-Learning Class
With the rising costs of groceries, you may have noticed your budget rising, too. Learn how easy it is to save money on groceries right now - No Coupons Necessary!
It's About Time e-Learning Class
Life is busy - Learning to manage and prioritize your time is essential to how busy you FEEL. Learn to make more time for yourself, your family, and everything else!
Upcoming Classes
Featured Products
Find us on FaceBook