Preparing Pumpkin

I am a taste junkie. I am usually willing to go to the extra work to get the best tasting foods. I don't like wasting my senses; tickled taste buds, fuzzy blankets, sweetly seductive smells, these things all make me happy and remind me that life is precious and something we should enjoy. I believe that with a little knowledge and a little work, every meal can be an invigorating experience.
And today we are talking about a Holiday staple: Pumpkin.
So why prepare your own pumpkin? Why go to the trouble when you can just bet a big ol'can at the store?
Well first off, the pumpkin commercially canned is not the most flavorful or sweetest pumpkin variety.
Second, I can portion out my pumpkin in useable amounts so I don't have a half a can or more that is going to go to waste.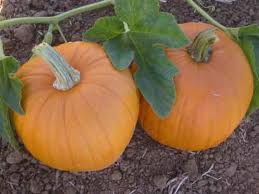 Third, pumpkins (especially pie pumpkins) are so easy to grow and buying a pumpkin plant nets you at least twice as much pumpkin for your money as buying it already canned. If you can't grow it, check your farmer's market. I bought several from the local farmer's market for about 50 cents a pound.
When picking a pumpkin look for the smaller sugary types like the "Small Sugar" "Sugar Sweet" or my fav "Sweet Pie Pumpkin".
It is a very simple process that starts with turning your oven on to 350 degrees and washing your pumpkin. Then you need to split it in half. The Sugar Pie Pumpkin has a much tougher skin than your typical jack-o-lantern pumpkin so it is going to take more to split it. If you have a dremel I recommend using that. I know most people don't so the next best thing is use a sturdy serrated knife and just saw at it till it is open.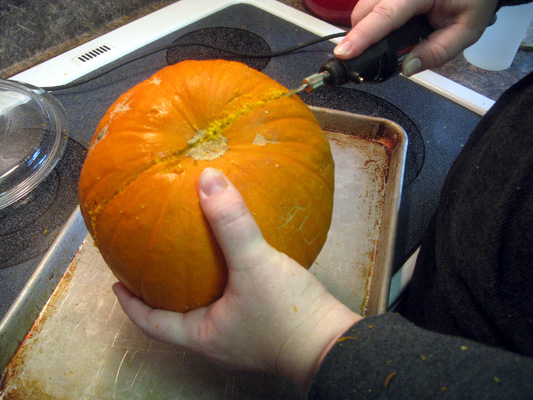 Next you just scoop out the stringy insides. The seeds you find in these types of pumpkins are so perfect for toasting and usually separate from all the inside goo much easier than bigger pumpkin types.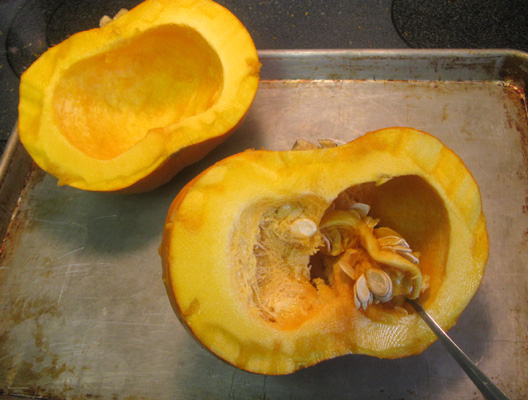 Place your pumpkin halves inside down on a sheet pan. I add a little water to my tray, it helps keep the pumpkin moist.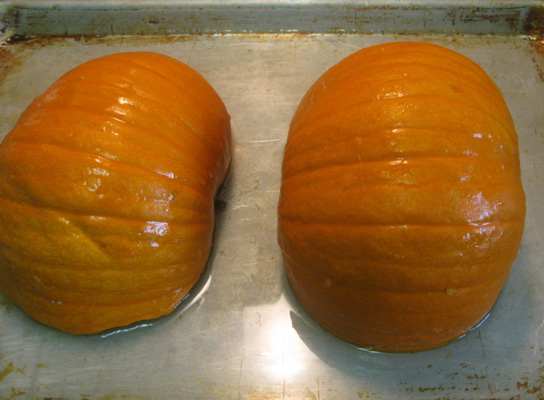 Then simply bake it for about 45min to an hour or more depending on the size. You will know when it is done by simply poking it with a knife, when it is tender and the knife goes right through it is done.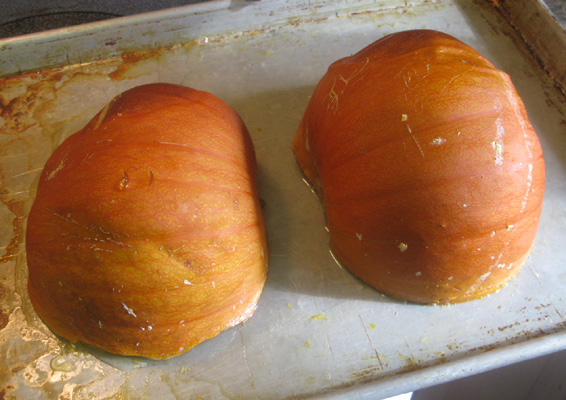 Let it cool so you can handle it without scalding yourself and scoop out all the tender pumpkin goodness.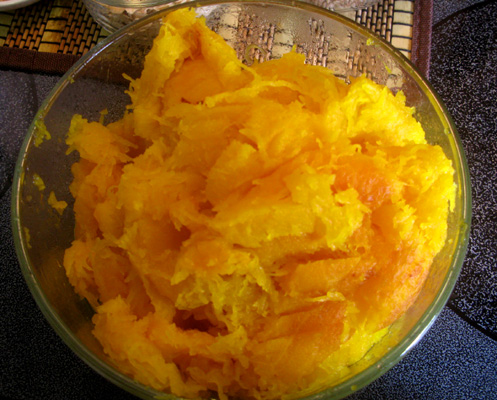 To finish it off just puree it in your blender, food processor, or with an immersion blender.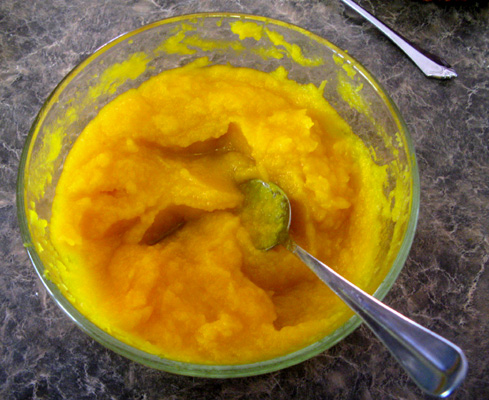 lastly portion it out into zip top bags and lay it flat in your icebox to freeze. For most of my recipes one cup portions work best and fit perfectly into sandwich sized zip tops.
In the next recipe blog I will share with you my great grandmother's FANTASTIC pumpkin pie recipe and my favorite pumpkin dessert: Pumpkin Crumble.
Tags:
pumpkin
preparing pumpkin
sugar pie pumpkin
For all news items click here
News Releases
Online Classes
Eat Better for Less E-Learning Class
With the rising costs of groceries, you may have noticed your budget rising, too. Learn how easy it is to save money on groceries right now - No Coupons Necessary!
Growing & Using Sprouts Class
Sprouting seeds are packed with vital nutrients, protein, and minerals. They make a highly nutritional addition to your Food Storage.
Upcoming Classes
Featured Products
Find us on FaceBook