An Organized Kitchen & Pantry Saves You Money!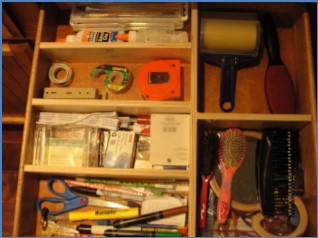 PANTRY AND KITCHEN ORGANIZATION: A well organized pantry and kitchen can make fixing meals more efficient and even save you money on groceries. How can it save you money? How many times have you purchased items for a meal and then moved something in your pantry to find you already had two of the same item. Being able to see what you have at a glance can make things so much easier. Here are a few ideas from women who have implemented some of the ideas that we share in our Pantry and Kitchen Organization Class:
Lauren's Kitchen—Lauren brought the before pictures of her kitchen drawers and cupboards to class. We were able to help her see how to make them more functional and save her steps in her kitchen. She started with the drawers and cupboard below and then went on to organize the rest of her kitchen cupboards and her pantry.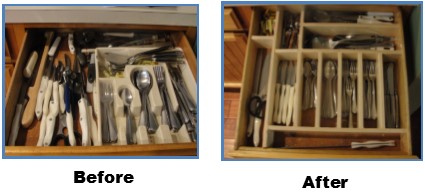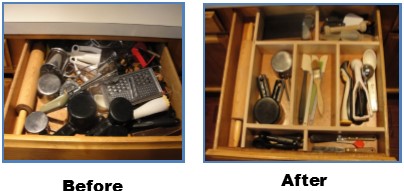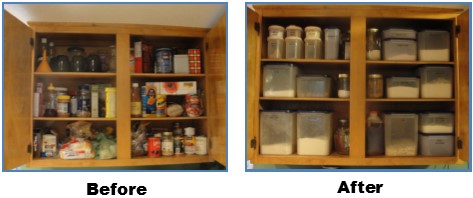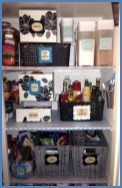 APRIL'S PANTRY REMODEL: April attended our Pantry Organization Webinar (
view video here!
) and overhauled her pantry. She not only wanted it more organized but she wanted to give it an artistic flair. She was so excited with the results. To see pictures of the whole makeover process check this blog,
April's Pantry Success
. April wished she had taken before pictures—she said her pantry was dreadful.
If you need ideas for your particular kitchen or pantry configuration and live in the Boise area
check our calendar for upcoming classes
or schedule a home consultation by calling Mary Ann at 376-9773 or Melanie Nelson at 208-559-7627.
For all news items click here
News Releases
An Organized Kitchen & Pantry Saves You Money!
Sometimes we get overwhelmed by the clutter that over-runs our kitchens! Mary Ann gives us some money-saving motivation for keeping our kitchens and pantries clutter-free.
Release Date: 4/12/2023
---
Your Shopping List
Ya, ya, I know what you are thinkin, "why do I need to read about a shopping list?" Because you want to spend LESS time in the grocery store, LESS energy, have LESS stress, and spend LESS money. Am I right? Using a shopping list will help you get in and out of the store faster and spend less money because you are NOT making spontaneous purchases, but rather buying what your family actually needs.
Release Date: 4/10/2023
---
---
Online Classes
Clutter Free Living E-Learning Class
Every house has storage issues regardless of it's size. Double your storage space with simple principles that will keep your house clutter-free all day, everyday.
It's About Time e-Learning Class
Life is busy - Learning to manage and prioritize your time is essential to how busy you FEEL. Learn to make more time for yourself, your family, and everything else!
Upcoming Classes
Featured Products
Find us on FaceBook