Alternative Cooking: Dutch Ovens

ALTERNATIVE COOKING—Dutch Ovens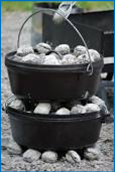 To help you get ready for all the outdoor cooking you do during the summer, we are offering a series of alternative cooking classes that are taste pleasing alternatives to heating up your kitchen in the summer time. Each class includes a complete meal—so come have dinner with us and learn how to use each of these stoves. We will be spotlighting each cooking method on our weekly blog, starting with Dutch ovens:
Dutch oven cooking

— to replace everything you cook on your range and in your oven

Thermal cooking

— to give you an on-the-go replacement for your crock pot.

Barbeques

— how to bake on your barbeque instead of in your kitchen oven.

Car Appliances

— how to cook while you're traveling and eliminate fast food stops and eating out and save lots of money and time in the process.

Solar cooking

— for those hot summer days so you can exchange the sun's power for your utility bill.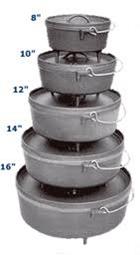 Dutch ovens are one of the oldest forms of cooking. Settlers and pioneers relied on Dutch ovens to cook their food over a hearth in their log cabins and on the trail across the plains. Dutch ovens are made of heavy cast iron and come with a handle for carrying and hanging over a fire. They come in a variety of sizes each two inches less in diameter—14, 12 inch, 10, 8, and 6 inch (larger ovens are also available). They can be purchased with or without legs. The style with legs is meant for cooking outdoors over coals and for stacking. The style without legs is used for baking in a standard kitchen oven, although the ones with legs can be used by fitting the legs through the holes in the wire racks.
USES:
As a cooking source Dutch ovens are wonderful because they can replace the cooking surface and the oven of your kitchen range. The lid can serve as a griddle for pancakes, eggs, bacon, hamburgers, hot dogs etc. The oven itself without the lid can be used as a frying pan. With the lid on it serves as a roasting pan for casseroles, roasts and other meat dishes or as an oven for baking biscuits, cookies or cakes. By placing canning jar rings in the bottom of the oven you can place bread pans or pie tins in the oven and bake them just like you would in your kitchen oven. The rings elevate the pan high enough for the air to circulate around the pan and keep it from burning on the bottom. I love Dutch ovens because they don't need a lot of tending and they are so versatile.
FUEL SOURCES: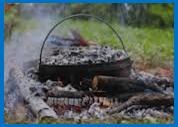 BIO-FUEL:
Coals for cooking with a Dutch oven can be made by burning bio-fuel (leaves, pine needles, twigs and logs). If using bio-fuel, let the fire burn until there are red hot coals. You will need enough coals for a thick layer under the oven and a layer on top of the oven. Keep adding to the fire in case more fuel is needed to sustain the temperature needed.

CHARCOAL:
If you are using the coals on a surface that can burn, turn a garbage can lid upside down and balance it on 2"x4"'s. Fill the lid with sand or dirt. Cover the dirt with foil to keep the charcoal from absorbing the moisture from the sand.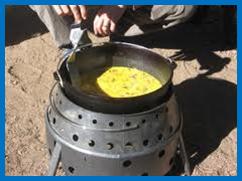 PROPANE:
The
volcano grill
can also be used to house the Dutch oven during cooking. It uses charcoal, propane or wood coals as the heat source. Because it is elevated on legs it can be placed on a picnic table or other elevated cooking surface. The ventilation holes in the grill allow charcoal or wood to ignite quickly and burn hot.
I hope this has given you some ideas on how to use a Dutch oven. Our hands-on cooking class on June 7, 2018 will teach you how to use the dutch oven to cook an entire meal using the dutch oven as a roaster, oven and griddle. For more information on other methods of cooking check-out our

Alternative Cooking

manual and up-coming blogs.

Click here to register for the Dutch Oven class.



Tags:
alternative cooking
dutch oven
thermal cooking
barbeques
car cooking
solar cooking
For all news items click here
News Releases
Everyday Water Filtration
Mary Ann gives you some great ideas for getting the most from your filtering water bottles. Saving them only for emergencies, isn't as practical as you might think...
Release Date: 4/6/2023
---
Super-size Your Stow-N-Go
A re-post from Mary Ann a few years ago. Brush up on storing items you need on the go in your car year-round.
Release Date: 11/13/2022
---
The Lunch Box Bug-Out Bag
From the Archive: Mary Ann shows you how to help your kids be prepared in case an emergency arises while they are at school.
Release Date: 11/4/2022
---
Online Classes
Growing & Using Sprouts Class
Sprouting seeds are packed with vital nutrients, protein, and minerals. They make a highly nutritional addition to your Food Storage.
Eat Better for Less E-Learning Class
With the rising costs of groceries, you may have noticed your budget rising, too. Learn how easy it is to save money on groceries right now - No Coupons Necessary!
Upcoming Classes
Featured Products
Find us on FaceBook