Everyday Water Filtration

EVERYDAY WAYS TO USE YOUR WATER PURIFIER
Many of us have
water purification bottles
to use in an emergency when our water supply has been compromised; but have you ever thought of using it in other situations? Your water purification bottle is a great addition to family outings, backpack trips, hiking, biking or floating the Boise or other rivers and streams.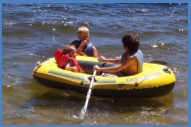 OUTDOOR ADVENTURES— From the time we were introduced to purification systems until now, we have purchased bottles for all of our activity bags, our car and our home. We use them in place of regular water bottles on a regular basis. Here are a few every day occasions that you might put your bottles to use:
Anytime you are around open water. We keep a bottle in our canoe bag, our boat, our raft and inner tube bag and our backpacks. When we are on the water, we simply tie a rope to the hook on the bottle, fill it with whatever water we are floating on and drag it behind. When anyone needs a drink, we just fish it out and enjoy. Keeping the bottle in the water keeps it cold, we don't have to worry about contaminants and we don't have to haul water with us.
Anytime the water tastes bad.

We have a favorite beach that we like to frequent in the summer. It has an outdoor volleyball court, restrooms, outside showers and a lovely park and beach. Although the water is potable, it tastes terrible. I'm not sure where the taste comes from—but the children will not drink it. When you are out in the sun all day, it is important to drink lots of water so you don't get dehydrated—so that requires that you bring lots of water for the crew. Luckily we have our two gallon water purification bag with us so we can fill each person's water bottle and take care of the bad taste.
Anytime you are hiking or biking near a water source. Streams and rivers provide unlimited water when you are on a trail, but can be a source of harmful bacteria that can cause digestive problems for weeks. For this reason it is always good to have a way to purify it. Case in point: My husband and I were biking along the Snake River in early summer on a trail that had been recommended to us. We had never ridden this trail before and based on the number of miles we would cover, it should have taken us about two hours. We had plenty of water with us for that amount of time. Unfortunately we ran out of trail in less than a half mile and had to push our bikes over rocks and through soft sand for seven and a half miles. As you can imagine—instead of two hours our trip took twelve hours. By the time we reached a couple of fisherman (about a mile from our destination), we were both dehydrated and starting to get delirious. We had lots of water around us, but the river was muddy from the spring run off and we had left our purification bottle home— thinking we wouldn't need it on such a short trip. We certainly learned our lesson.
Having access to clean water is of primary importance. Because individual bottles are so inexpensive, I suggest that you do as we do and have one for every outdoor activity your family enjoys. Be sure to have a bottle in the car and a bag in the house. The bag is gravity fed and filters water very quickly. You can use the one bag to fill regular water bottles for the whole family.
I prefer the
Seyechelle purification system
because of the cost and the volume of water it purifies. One filter will clean
200 gallons of clean water
(streams, lakes and rivers) and
100 gallons of pond water
. You can replace the filter without replacing the bottle and there is also a radioactive filter available. I also like the Seyechelle system because is purifies 99.9% of all chemicals, bacteria and viruses.
Check our website for
upcoming classes
that not only show you a variety of ways to purify water but give you detailed information on how and where to store and conserve this important resource.
Tags:
Seyechelle
water
filter
For all news items click here
News Releases
Everyday Water Filtration
Mary Ann gives you some great ideas for getting the most from your filtering water bottles. Saving them only for emergencies, isn't as practical as you might think...
Release Date: 4/6/2023
---
Super-size Your Stow-N-Go
A re-post from Mary Ann a few years ago. Brush up on storing items you need on the go in your car year-round.
Release Date: 11/13/2022
---
The Lunch Box Bug-Out Bag
From the Archive: Mary Ann shows you how to help your kids be prepared in case an emergency arises while they are at school.
Release Date: 11/4/2022
---
Online Classes
Growing & Using Sprouts Class
Sprouting seeds are packed with vital nutrients, protein, and minerals. They make a highly nutritional addition to your Food Storage.
Eat Better for Less E-Learning Class
With the rising costs of groceries, you may have noticed your budget rising, too. Learn how easy it is to save money on groceries right now - No Coupons Necessary!
Upcoming Classes
Featured Products
Find us on FaceBook