Window Treatments 5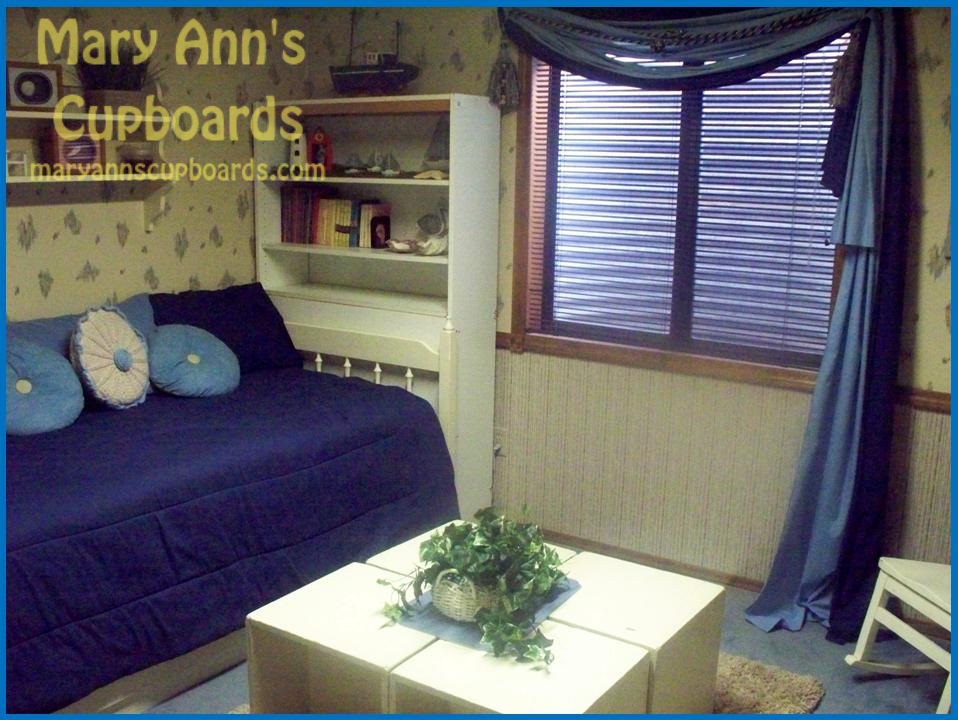 This is the fifth in our series on easy and inexpensive window treatments. This week we will give instructions for draperies using two pieces of fabric and drapery hooks.
This is a children's bedroom. It houses a doll house bookcase, a closet full of toys and a play surface made from four cubes. (Check future blogs for how to make these cubes and use them in lots of ways)
Everything in this room has been recycled a number of times.
The day bed was once a set of captain bunk beds.
The bookcase/storage bin was in my daughters college apartment.
The play table (coffee table) is a set of cubes that have been used for a baby changing table, bookcase, end tables, nightstands, and play furniture (they make into table and chairs, boats and beds).
EQUIPMENT:
2 drapery hooks, coat hooks or tieback brackets. Mount the brackets one inch above the window and just outside the window frame.

1 or 2 pieces of fabric, any texture, any color that matches your décor. I used $2 board clothe for this window.
Drapery tassel and cording if desired. This one was on clearance at Home Fabrics. I bought the cording and two tassels for $5.
Step #1
— Once the brackets are hung, hang the fabric.
Step #2
— In you want floor length draperies, place the fabric on the floor and pull one end over the first hook until the fabric is the length desired.
Step #3
— Then lay the fabric over the second hook and bring it back and over the first hook. In other words you loop it around the two hooks. Cut the end of the fabric the desired length.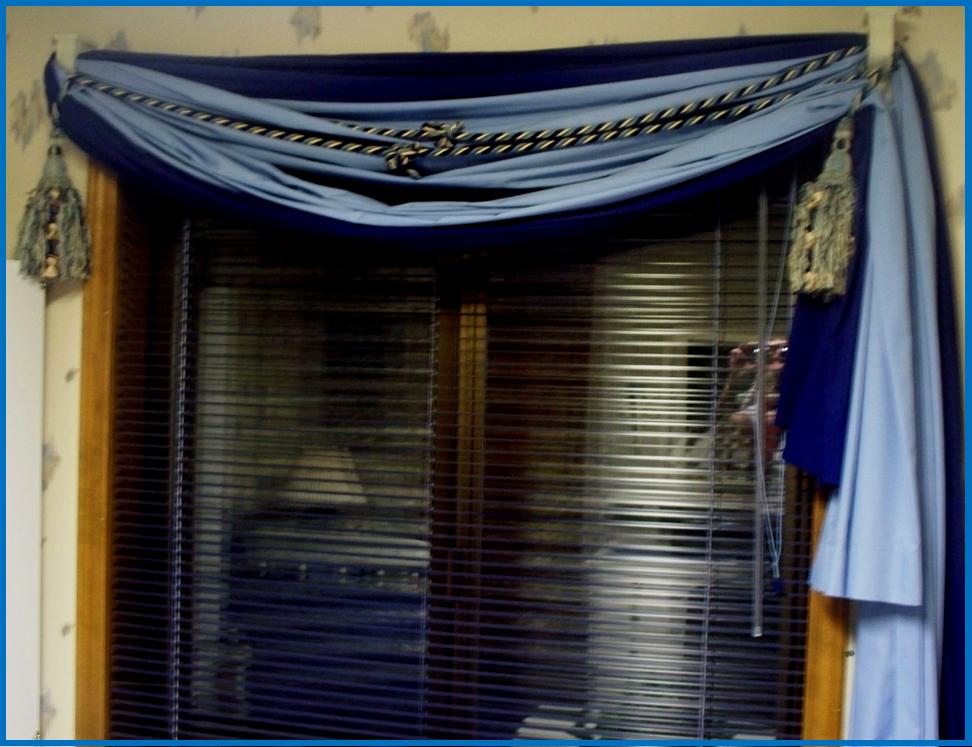 Step #4
— Take the fabric down and hem or stitch-witchery the ends. Because this is such an easy drape to hang, taking it down and rehanging it, is not time consuming. If you are using two contrasting pieces of fabric like shown here, measuring the second piece with the first and hem both at the same time.
Step #5
— Hang both pieces of fabric. Swag one piece lower than the other to create a frame.
Step #6
— Put the loops of the tassels on the cording. Wrap the cording around the hooks and tie a square knot in the middle.
Step #7
— Arrange the folds and the length of the swags and you are done.
Because this room has a nautical theme, it would be fun to use fish net for one of the fabric pieces and nautical rope for the accent.
Tags:
drapes
window treatments
money matters
home decor
affordable decor
For all news items click here
News Releases
Online Classes
Clutter Free Living E-Learning Class
Every house has storage issues regardless of it's size. Double your storage space with simple principles that will keep your house clutter-free all day, everyday.
Eat Better for Less E-Learning Class
With the rising costs of groceries, you may have noticed your budget rising, too. Learn how easy it is to save money on groceries right now - No Coupons Necessary!
Growing & Using Sprouts Class
Sprouting seeds are packed with vital nutrients, protein, and minerals. They make a highly nutritional addition to your Food Storage.
Upcoming Classes
Featured Products
Find us on FaceBook