Flavor Dictionary 2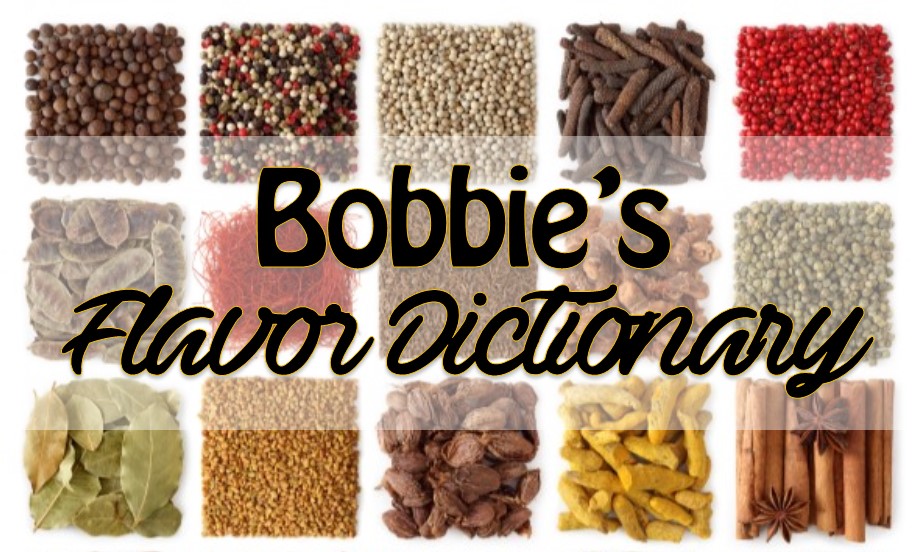 Cinnamon:
An anciently used spice from the inner bark of certain trees. Many different varieties, the best and most expensive is 'True Cinnamon' from Sri Lanka.
Suggested uses: A favorite spice for baking and paired with apples. The oil makes spicy candies and treats. Used in Turkish and Caribbean savory foods like Jerk Spice.
Cloves:
A strong and aromatic dried flower bud. Found in Indian Foods and often used with cumin and cinnamon in savory, or ginger and nutmeg in sweet dishes.
Suggested uses: Often associated with Oranges and Christmas. Used in sweet pies, breads, and drinks like wassail. In savory dishes like Marsalas and many bean soups and chilies.
Cumin:
Cumin is the 2nd most popular spice after black pepper. Used in dishes all over the world to add meaty, slightly bitter flavor to dishes.
Suggested uses: Goes well with all beans and meats especially sausages. I like to add a little to my salsa. It is an important part of curry powder.
Curry Powder (common yellow):
Curry is a very broad term but her we just mean the yellow powder blend that is most common. It is a blend of spices that gets most of it's yellow color from turmeric.
Suggested uses: Mixed with meat, potatoes, and veggies for a simple curry to eat over rice. A simple and surprising addition to soups, chili, and just simple rice.
Dill Seed:
Dill is a fantastic plant with so many uses. Dill seed is actually the flat dried fruits of the plant. The seeds have a heartier flavor than the leaves and are found in most pickling mixes.
Suggested uses: Pickles and potato dishes love dill seed. Dill seed tea helps aid digestion and gastrointestinal complaints.
Dill Weed:
Dill has a fragrant and smooth flavor with a great amount of depth. Found often in German and Scandinavian cooking.
Suggested uses: Often used with potatoes. Found in soups and dips, pairs well with fish and chicken. Goes well with cheese sauces, salad dressings and makes a pretty garnish.
Fennel Seed:
An aromatic spice similar to anise (have a mild licorice flavor) and can be used interchangeably. A traditional digestive aid used to help colicky babies.
Suggested uses: Used in making Italian sausage, salads, soups, and a tasty tea to help settle the stomach.
Tags:
herbs
spices
flavors
uses
ingredients
cooking
stewing
eating
For all news items click here
News Releases
Online Classes
It's About Time e-Learning Class
Life is busy - Learning to manage and prioritize your time is essential to how busy you FEEL. Learn to make more time for yourself, your family, and everything else!
Growing & Using Sprouts Class
Sprouting seeds are packed with vital nutrients, protein, and minerals. They make a highly nutritional addition to your Food Storage.
Clutter Free Living E-Learning Class
Every house has storage issues regardless of it's size. Double your storage space with simple principles that will keep your house clutter-free all day, everyday.
Upcoming Classes
Featured Products
Find us on FaceBook