The Volcano Grill, an Introduction


I wanted to do this introduction of the two types of Volcano Grills I use because in future blog entries (and accompanying videos) I will be using them.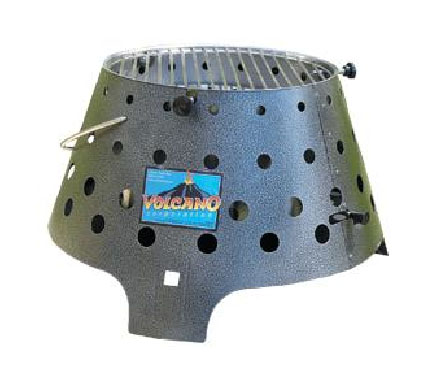 This picture is of the Original Volcano. I usually use the Original Volcano when I am cooking with my Dutch Ovens.

We enjoy using the two types of Volcano Grills for many reasons:
- It is fun to use at home, or when camping
- It can be used with propane (an accessory), wood and charcoal
briquettes
- By using the adjustable vent system you can control the fuel burn
rate and temperature
- It is easy to use and when used properly does not get hot on its
outside so will not burn a tabletop or your flesh
- You need less briquettes, compared to other methods of using
briquettes.*
- It is the most efficient way I have found to cook using my Dutch
Ovens
- I use it with my cast iron skillet and steel wok
- I can boil water with them when cooking vegetables or making
soups
- I know that in time of disaster it will be there to help us cope
- The Volcano heating chamber focuses the heat and therefore is
more efficient than most other cooking methods
- When cooking with wood or charcoal cleanup is very easy and
quick
- When cooking with briquettes I have a choice of two different
heights for those briquettes within the Volcanos.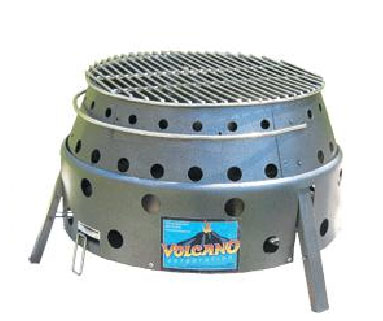 This picture is of the Volcano Collapsible Grill.

I use my Volcano Collapsible Grill when camping because it collapses down to 5 inches and is very light weight, portable, and easy to store in the trunk of my car.
Many mornings you will find me cooking breakfast outside using the Collapsible Grill and my cast iron skillet.

The Volcano Collapsible Grill has all of the advantages of the Original Volcano, but is easier to work with due to it portability, weight and size.
(The last I heard the Volcano Collapsible comes with its own carrying case.)

I am very glad I purchased the propane accessory for each of my Volcano Grills because I do not always want to work with charcoal. I also like the inexpensive Volcano "Lid" accessory because it helps make my grill into an oven; a great addition to the grill.

* In a future blog I will show how I cooked a roast, potatoes, carrots, onions and garlic in a 10-inch Dutch Oven by using only 14 briquettes, where all other methods of doing this would require me to use at least 20 briquettes. (If you are saving briquettes for a time of disaster it helps to know the Volcano(s) really do save on fuel use.)

NOTE: When cooking with my Dutch Ovens and briquettes, but not with a Volcano, I need to worry about breezes blowing glowing embers into the surrounding area, and the breeze causing the briquettes to burn too hot and quick; these are not problems when using the Volcanos.


Watch for future blog entries where I show cooking with the Volcanos.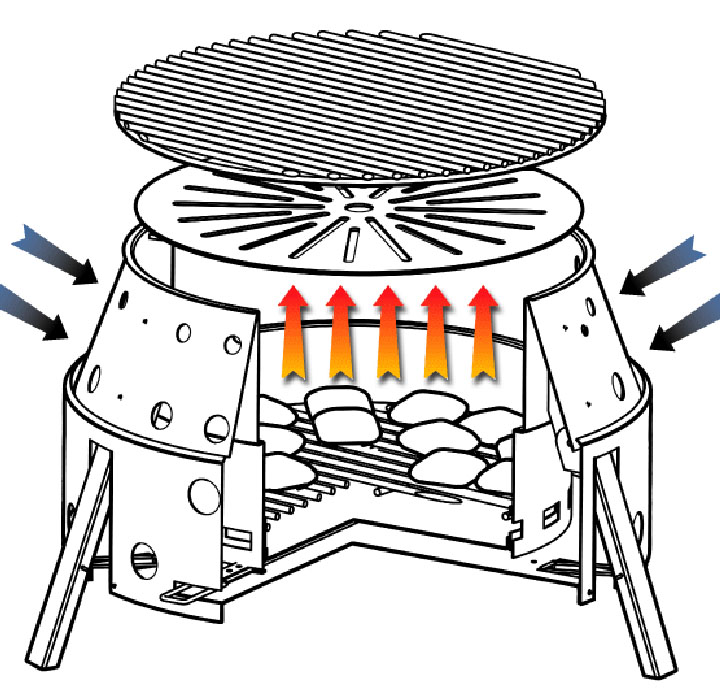 Photos used with permission from www.volcanogrills.com

Tags:
volcano grill
grill
emergency cooking
dutch oven cooking
Christianne Crump said...
Thanks for the blog post. I'm excited to watch your videos. By the way, I love our video on the mouse trap with the bucket. That's genius!

Add a Comment
For all news items click here
News Releases
Everyday Water Filtration
Mary Ann gives you some great ideas for getting the most from your filtering water bottles. Saving them only for emergencies, isn't as practical as you might think...
Release Date: 4/6/2023
---
Super-size Your Stow-N-Go
A re-post from Mary Ann a few years ago. Brush up on storing items you need on the go in your car year-round.
Release Date: 11/13/2022
---
The Lunch Box Bug-Out Bag
From the Archive: Mary Ann shows you how to help your kids be prepared in case an emergency arises while they are at school.
Release Date: 11/4/2022
---
Online Classes
It's About Time e-Learning Class
Life is busy - Learning to manage and prioritize your time is essential to how busy you FEEL. Learn to make more time for yourself, your family, and everything else!
Upcoming Classes
Featured Products
Find us on FaceBook