Whiter Whites Recipe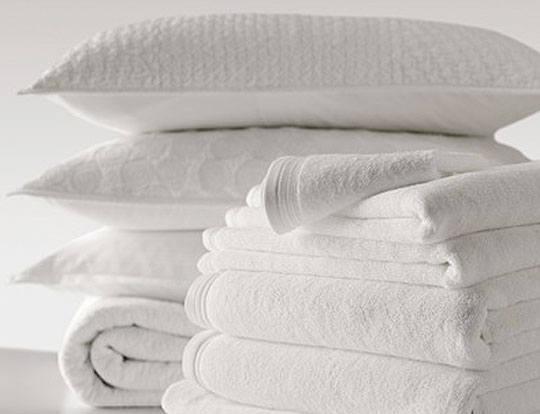 I got this recipe from my mother-in-law for getting you whites amazingly white. I also use it to get the sour smell out of dish rags and towels (a personal pet peeve). The only caveat for this recipe is do not use it on synthetic fabrics. It is only for 100% cotton items. It will yellow synthetic fabrics.
1 cup powder laundry soap
1 cup powder dishwasher soap
1 cup chlorine bleach
Top Loader Washing Machine Instructions – Set water onto HOT and washer on Soak. Add ingredients to tub while it is filling. Once the tub is full add the items to wash, close the lid and leave overnight. In the morning run the cycle and set the washer for a second rinse.
Front Loader Washing Machine Instruction – Kinda out of luck here because the washer won't do a soak where the fabrics sit in the water. Instead fill the laundry room sink with water as hot as your faucet will go. Add ingredients, stir to dissolve powders, add items, leave overnight. In the morning drain the sink and refill with plain water to do a initial rinse. Transfer to the washer and run cycle on HOT with an extra rinse if you have that setting available.
I'd love to hear laundry tips and hint from some of you!
For more information on other laundry products and tips, check out
Tags:
laundry
whites
wash
whiter whites recipe
For all news items click here
News Releases
A Better Game Plan for Game Day
Whether it's soccer, football, rugby, lacrosse, or marching band, Mary Ann shows you how to keep everyone warm, comfortable, and ready for anything when it comes to fall sporting events.
Release Date: 9/19/2018
---
Surviving Summer Prepare for Summer Fun
You can be ready to hit the fun in 15 minutes or less—whether your day involves hiking, swimming, biking or picnicking. How can you do it? it's easy—preparation is the key.
Release Date: 5/8/2018
---
Water bottles save dishes!
Joanne shares with us how she uses water bottles to help reduce dish clutter, save money, and help keep her family hydrated.
Release Date: 5/8/2018
---
Online Classes
It's About Time e-Learning Class
Life is busy - Learning to manage and prioritize your time is essential to how busy you FEEL. Learn to make more time for yourself, your family, and everything else!
Eat Better for Less E-Learning Class
With the rising costs of groceries, you may have noticed your budget rising, too. Learn how easy it is to save money on groceries right now - No Coupons Necessary!
Growing & Using Sprouts Class
Sprouting seeds are packed with vital nutrients, protein, and minerals. They make a highly nutritional addition to your Food Storage.
Upcoming Classes
Featured Products
Find us on FaceBook