Water bottles save dishes!

<![if gte mso 9]>
We all know how important it is to our health and brain function to be properly hydrated, right? If not here are some articles I'd like to link you to, in order of my favorites:
Importance of Hydration in the Summer

Understanding the Importance of Hydration

Hydration
<![if gte mso 9]>
With health and hydration in mind, does your top dishwasher rack ever look like this?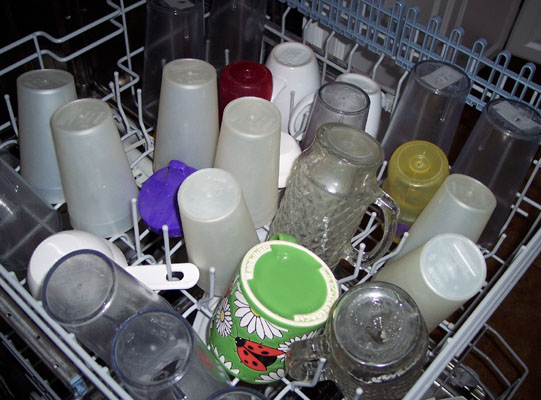 So did ours. Since installing a drinking fountain was out of our budget (weird I know), I came up with a super great way to have everyone hydrate and get a drink of water throughout the day WITHOUT filling up our dishwasher OR cupboard with labeled glasses for each person. (This is another method, though still flawed= I don't like 9 glasses on my counter all day.)
<![if gte mso 9]>
Here's what worked for us:
I bought different kinds of water bottles at our fav second hand store (Deseret Industries).
Each person in our family chose a bottle and labeled it. This saves space in landfills as you are reusing water bottles rather than throwing them away.
IMPORTANT: be sure to tell them that

they are in charge

of keeping it filled and clean and to only drink out of their own water bottle. (This has been a bit of a problem for us.)
I ask my crew to drink a full bottle of water every day… no it doesn't happen daily, but we try.
The sharpie written names tend to wear off after awhile. No worries. This is fine as long as everyone knows which bottle is theirs. You/they don't have to know everyone's bottle on sight. Just your/their personal one. TIP: If you like knowing everyone's bottle, writing on tape has worked best for us. Label maker labels tend to wear out faster than sharpie on tape.
Not sure if you can see it in this pic, but we have a

specific place

for water bottles in our fridge. It has been labeled

WATERS

to show where their water bottles live. Our crew is pretty good about replacing them there. Now if we could just keep them filled we'd be golden!
We also have a basket of extra bottles. You know the ones that magically appear from races, camps, reunions, etc. These are our replacement water bottles as we sometimes leave them at the park, orthodontist, beach, someone else's house or car, etc. This way we don't stress over the absent bottle. Just choose another and label it.
<![if gte mso 9]>
TIP: Sometimes plain water gets boring, even for me. If you simply plop an herb tea bag in there with the water and let the tag on the string dangle out the top, you'll have flavored water! Ya go ahead and screw the lid on over the string; don't worry it still will be water tight. Peppermint is my fav. Great for digestion and energy too!
I hope this little suggestion makes your dish washing more efficient (because there are less glasses to wash) and helps your family be hydrated. I wish you the best and happy savings till next time!
~Joanne
Tags:
watter bottle
time
money
dishwasher
space
hydration
For all news items click here
News Releases
An Organized Kitchen & Pantry Saves You Money!
Sometimes we get overwhelmed by the clutter that over-runs our kitchens! Mary Ann gives us some money-saving motivation for keeping our kitchens and pantries clutter-free.
Release Date: 4/12/2023
---
Your Shopping List
Ya, ya, I know what you are thinkin, "why do I need to read about a shopping list?" Because you want to spend LESS time in the grocery store, LESS energy, have LESS stress, and spend LESS money. Am I right? Using a shopping list will help you get in and out of the store faster and spend less money because you are NOT making spontaneous purchases, but rather buying what your family actually needs.
Release Date: 4/10/2023
---
---
Online Classes
Growing & Using Sprouts Class
Sprouting seeds are packed with vital nutrients, protein, and minerals. They make a highly nutritional addition to your Food Storage.
Eat Better for Less E-Learning Class
With the rising costs of groceries, you may have noticed your budget rising, too. Learn how easy it is to save money on groceries right now - No Coupons Necessary!
Upcoming Classes
Featured Products
Find us on FaceBook