Vitamin Space Saving Tips

No more vitamin and medicine bottle clutter in your bathroom!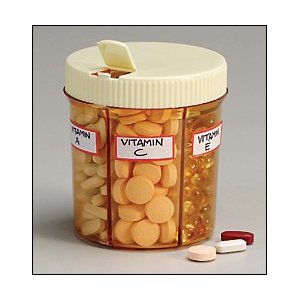 Iíve really been trying to take all the vitamins and supplements that have been recommended for me: Multivitamin, Fish Oil capsules, Zinc, Calcium, Vit D, etc. The problem was my bathroom counter was becoming a cluttered mess.

I found the solution in this Apothecary/GMS handy pill dispenser. Itís cheap, easy and has let me clear the decks of pill bottle clutter.


I give it a hearty recommendation.

Tags:
vitamins
pills
pillcase
storage
space saver
organization
For all news items click here
News Releases
An Organized Kitchen & Pantry Saves You Money!
Sometimes we get overwhelmed by the clutter that over-runs our kitchens! Mary Ann gives us some money-saving motivation for keeping our kitchens and pantries clutter-free.
Release Date: 4/12/2023
---
Your Shopping List
Ya, ya, I know what you are thinkin, "why do I need to read about a shopping list?" Because you want to spend LESS time in the grocery store, LESS energy, have LESS stress, and spend LESS money. Am I right? Using a shopping list will help you get in and out of the store faster and spend less money because you are NOT making spontaneous purchases, but rather buying what your family actually needs.
Release Date: 4/10/2023
---
---
Online Classes
It's About Time e-Learning Class
Life is busy - Learning to manage and prioritize your time is essential to how busy you FEEL. Learn to make more time for yourself, your family, and everything else!
Growing & Using Sprouts Class
Sprouting seeds are packed with vital nutrients, protein, and minerals. They make a highly nutritional addition to your Food Storage.
Upcoming Classes
Featured Products
Find us on FaceBook