Aunt Barb's Peachy BBQ Pork Chops
These tender pork chops were introduced to me a few Thanksgivings ago. My Aunt Barbara is a delightful woman with a knack for fun and tasty dishes in the kitchen. She shared this recipe during a visit at Thanksgiving. She came to see all of us here in Idaho and made us dinner...Who does that? Yes, she really is that awesome. Anyhow, this is a recipe that can be done in the oven, dutch oven, or the crockpot so you have lots of choices as far as cooking methods go. These pork chops are fall-apart tender and have a tasty sauce that isn't too sweet.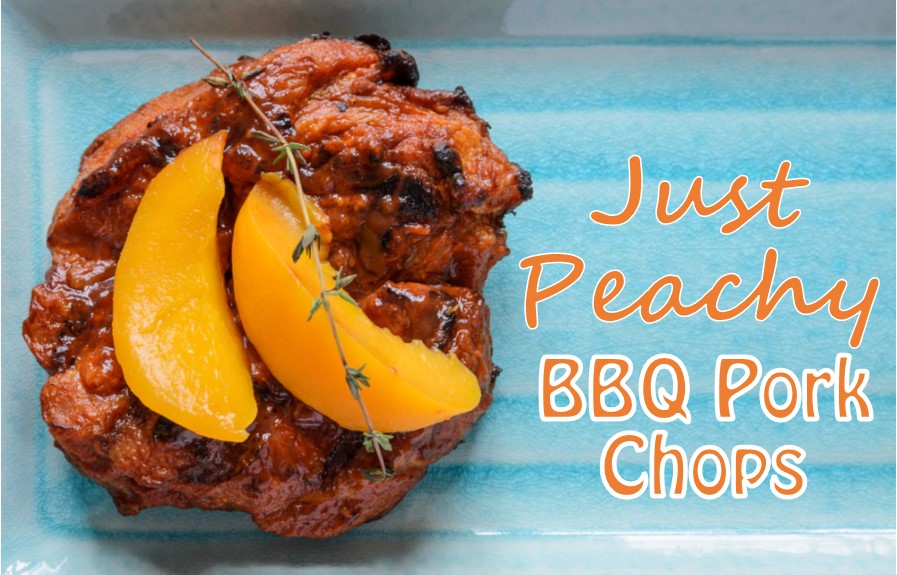 1/2 c freeze-dried peaches reconstituted (save the water)
2 T finely grated fresh ginger
2 garlic cloves, crushed
2 T soy sauce
1 T spiced tea
½ t red pepper flakes, optional
1 to 2 teaspoons vegetable oil
4 chicken quarters, skinned or 4 chicken breast or 4 pork chops
½ t salt
½ t ground black pepper
1 to 2 thinly sliced green onions, including green parts to garnish
1. Pre-heat oven to 350 degrees
2. Combine peaches, ginger, garlic, soy sauce and tea leaves in the bowl of a food processor and pulse until chunky-smooth. Scrape the bowl and add red pepper flakes.
3. Heat oil in a large, heavy, oven-safe skillet over medium high. Sprinkle meat with salt and pepper, add to pan and brown for 8 minutes. Pour glaze over meat.
You can also brush the glaze over chicken quarters, breasts or pork chops turn them into a juicy main course with a minimum of fuss. Make a large quantity of the glaze and store it in the refrigerator to brush over salmon or shrimp as well.
4. Transfer to oven and bake about 40 minutes, basting with sauce, until meat is cooked through and glaze is thick. Remove from pan and sprinkle with green onions.
NOTE: You can brown meat in your instant pot or slow cooker. Add glaze and cook on low until ready to serve.
Tags:
Pork
Peaches
Dinner
Meals
Recipe
For all news items click here
News Releases
Online Classes
Clutter Free Living E-Learning Class
Every house has storage issues regardless of it's size. Double your storage space with simple principles that will keep your house clutter-free all day, everyday.
It's About Time e-Learning Class
Life is busy - Learning to manage and prioritize your time is essential to how busy you FEEL. Learn to make more time for yourself, your family, and everything else!
Upcoming Classes
Featured Products
Find us on FaceBook