Pureed Black Bean & Bacon Soup

Beans are such an important staple food to have around the house and in the food storage and there are so many yummy things to do with them. One of my favorite recipes is this tasty soup that uses dried or canned black beans and bacon.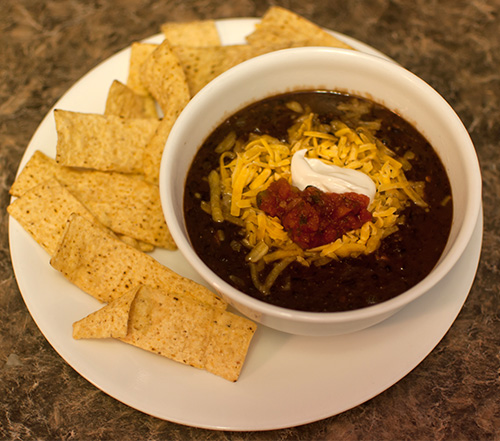 Pureed Black Bean & Bacon Soup
1pkg (12oz) Bacon
2 1/2c. Black beans (canned or softened in water overnight)
2 Carrots
2-3 Stalks celery
1 large Onion
3 cloves Garlic or 1 Tbsp garlic powder
1 can diced green chilies (optional)
1-2 Tbsp Brown Sugar
1 Tbsp Chili Powder
1 tsp cumin
¼-1/2 tsp Mexican Oregano
1tsp Worcestershire sauce
6-8 cups broth (chicken, beef, turkey, veggie, your choice)
Salt & Pepper to taste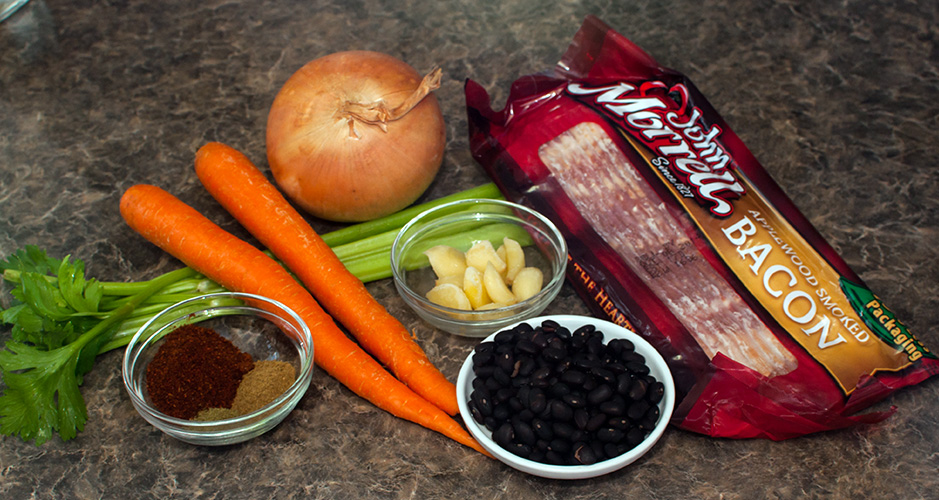 In a crock pot on low heat, start your beans, garlic, and all but 2 cups of your broth cooking about 4-5 hours before meal time. Reserve the last cups of broth to adjust the thickness of the soup later. Once the beans are soft and able to smash easily you are ready to begin the real work…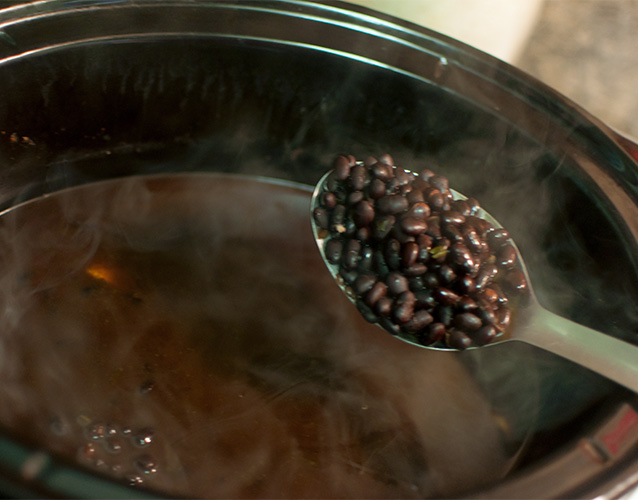 First cook your bacon. I like to slice my bacon into little strips before I cook it just because it is easier than trying to crumble it into nice bits after cooking it. Remove the cooked bacon from the pan and set aside for later. Keep about 1-2 Tbsp of bacon fat in the pan.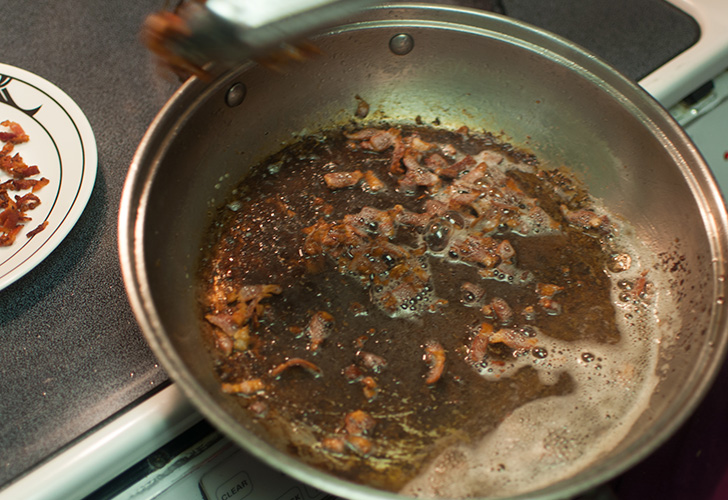 A note about flavor: Use a plain pan, not a nonstick pan for this. That way you will get a nicely cooked crust on the bottom of the pan. This is flavor like no other; all you have to do to use it is to add a bit of liquid to the hot pan to get it all up. Use a whisk or a spatula to stir and help scrape. This is excellent for making sauces, gravy, or to add more flavors to soups, plus it is all natural!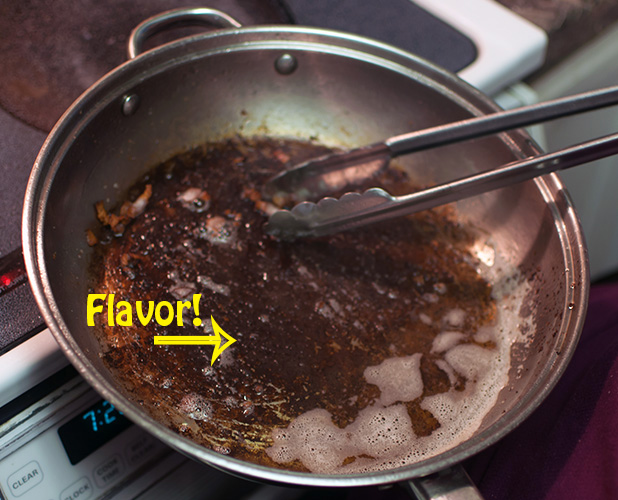 Once the bacon is done and you have a nice brown crust on the bottom of the pan, add your chopped up onion, celery, and carrot to the hot oil in the pan and cook until the onion is just translucent. The moisture from the veggies should be enough to get the crust off the pan and onto your veggies.
Another note on flavors: Around my house we call bacon fat "bacon Butter" and I keep a jar of it tightly sealed in my cupboard. It is such a natural flavor booster. I use a little bit of it to add to my olive oil when I cook my eggs chicken, or onions. It gives a nice smoky meaty flavor to anything that you cook in it.
Add the veggies to your soup and let it cook for another half hour to an hour. This soup can cook on low for some time at this stage if you need to hold things for later. About 20 minutes before you want to eat it, it is time for the pureeing. You can pour it into a glass blender of get out the trusty immersion blender.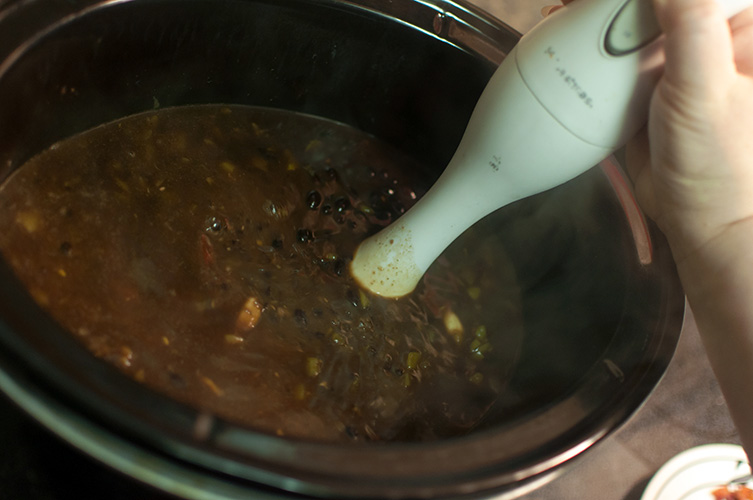 At this point it is time to put the bacon pieces into the soup and serve. Or you could keep the bacon bits out of the soup and let people use them as a topping.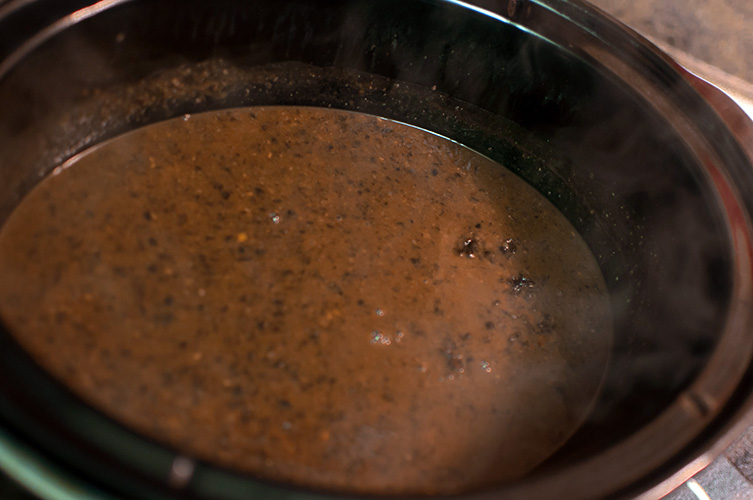 I like to serve this soup with corn chips, cheese, sour cream and salsa. It is a delicious and healthy soup that will keep you and your family warm on any winter night. Also, any leftovers can be mixed with salsa and cheese then reheated and used as a warm bean and cheese dip.
Come learn more about beans at our Budget Boosting Beans class!

Tags:
black beans
beans
soup
JoAnn Kerr said...
thank you for this delicious recipe. I have everything that I need to make it. I would love to attend your classes, but they are on Thursday nights and I have Cub Scouts that night. I enjoy your emails so much.
Add a Comment
For all news items click here
News Releases
Online Classes
Eat Better for Less E-Learning Class
With the rising costs of groceries, you may have noticed your budget rising, too. Learn how easy it is to save money on groceries right now - No Coupons Necessary!
Upcoming Classes
Featured Products
Find us on FaceBook