3-2-1 Cake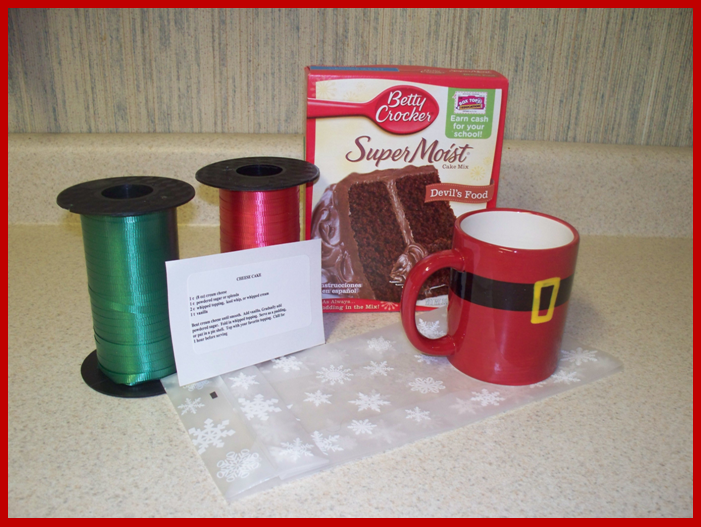 Last summer at a college roommate retreat, my wonderful roommate Vicki Topliff shared this fun, easy and tasty recipe with us. I thought it would be a great gift to give to your children's teachers, neighbors or friends. The gift cost $1.25 and takes very little time to assemble.
SUPPLIES:
You will need a cake mix of your choice (mine is always chocolate). Half of the box will fit in the mug—so you get 2 gifts out of each box. (Add 3 tsp cornstarch to your box of cake mix to give a light and fluffy texture and eliminate the need for eggs.)
A mug (I got mine at a thrift store for 50 cents)
A plastic bag (a Ziploc sandwich or quart bag will work or a seasonal treat bag)
A 3x5 card for the recipe
Ribbon to decorate the bag

ASSEMBLING:
Put half of the cake mix in the bag.
Put the bag in the mug
Tie the top of the bag with the ribbon
Attach the recipe
RECIPE: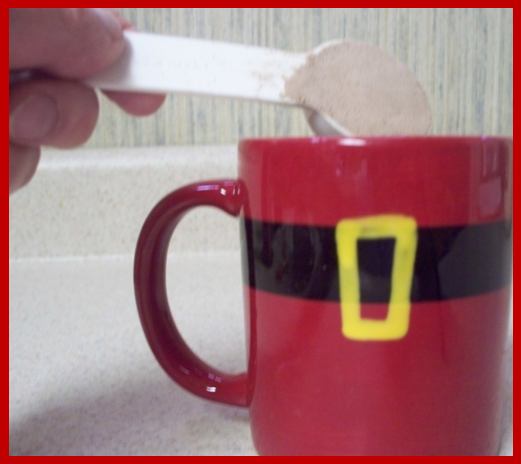 3 tablespoons cake mix

2 tablespoons water
Mix with a spoon in the mug until well blended
1 minutes on high in the microwave
Yield: 1 cupcake size cake
ENJOY: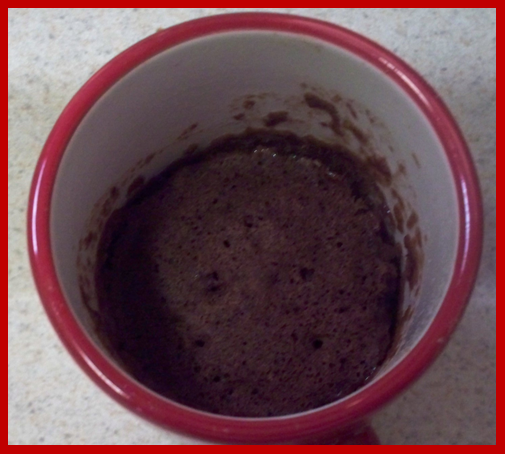 Top with ice cream or berries or both
A half a cake mix will make 12 cupcakes—many days of fun and enjoyment.
Tags:
cake
microwave cake
cupcakes
presents
holiday
gifts
ideas
easy treats
For all news items click here
News Releases
---
Why Should I Store Buttermilk Powder
Freeze Dried Buttermilk Powder is a great shelf-stable ingredient to store. But why should you store it? Let's find out!
Release Date: 9/12/2019
---
Gear & Gadgets - The Super Scoops!
Back from the Archive: You don't need a lot of little or big gadgets cluttering up your kitchen. Britney is back to show us how the cookie dough scoop is one of the most versatile gadgets you can have in your kitchen. You can eliminate other "one-trick" tools and save yourself storage space, time and money by choosing tools that do double-duty.
Release Date: 9/10/2019
---
Online Classes
Clutter Free Living E-Learning Class
Every house has storage issues regardless of it's size. Double your storage space with simple principles that will keep your house clutter-free all day, everyday.
Growing & Using Sprouts Class
Sprouting seeds are packed with vital nutrients, protein, and minerals. They make a highly nutritional addition to your Food Storage.
Upcoming Classes
Featured Products
Find us on FaceBook