121 Fun Sayings for Simple Gifts

Christmas is getting more expensive every year. I used to be such a good neighbor when it came to giving little things to my neighbors for Christmas, but as time went on and money got tight, I just couldn't afford to be a good neighbor anymore.
My friend, and neighbor, Mary Ann Barclay, shared this list with me a few years ago. It helped me finds some great ideas that were simple and affordable for my family to give to our great friends and neighbors. It made it easier to give something to everyone on our list, so I thought I might share it with you.
Some of my favorite ideas are: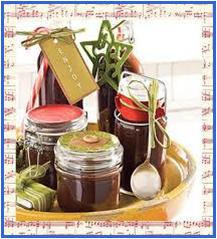 A plate of cookies with a tag that says, "Merry Christmas from your "Crummy" neighbors.
A little bag of Hersey Kisses and a wire whisk with a tag that says, "We Whisk You a Merry Kiss-Mas"
A little jar of jam with a tag that says, "Hoping your Christmas is "Jam"-packed with with cheer this year"
A bag or jar of soup mix with a recipe and tag that says, "We think you are Souper! - Merry Christmas from the..."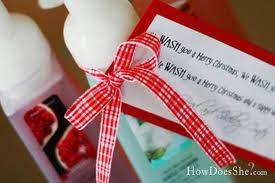 Another cute idea came from
HowDoesShe.com
. We have recently been acquainted with one of their founders. Their site has so many fun things to offer, but this was and idea my daughter loved. It's a bottle of hand soup that has a tag that says, "We WASH you a Merry Christmas!"...so cute.
Here's link to a blog
that How Does She had on their site with more cute ideas.
I hope as you catch the spirit of the holiday season, you find simple and wonderful ways to make memories and enjoy the people who mean the most to you!
Tags:
Gifts
ideas
crafts
fun
christmas
For all news items click here
News Releases
Online Classes
It's About Time e-Learning Class
Life is busy - Learning to manage and prioritize your time is essential to how busy you FEEL. Learn to make more time for yourself, your family, and everything else!
Upcoming Classes
Featured Products
Find us on FaceBook