Cookie Fun 5 Cake Mix Cookies

This is an oldy but a goodie and one of my go-to cookie recipes. Whenever I need a large batch to share at an event or if I want to really impress someone, I reach for this recipe. The very best part about it is the vast versatility of it. With all the flavors and kinds of cake mixes out there the sky is the limit on flavor options. Here I will give you the basic recipe, some of the flavor combos we have tried, and my very favorite version of it: Almond poppy seed cheesecake cookies.
Cake Mix Sandwich Cookies
Cookies:
2 (18.25 ounce) Packages any flavor cake mix
4 Eggs
2/3 c. Oil
Filling:
1 8oz. Pack of cream cheese
2-3 c. Powdered Sugar (just enough to make it frosting thick)
2 Tbsp. Jam or Jelly to flavor is desired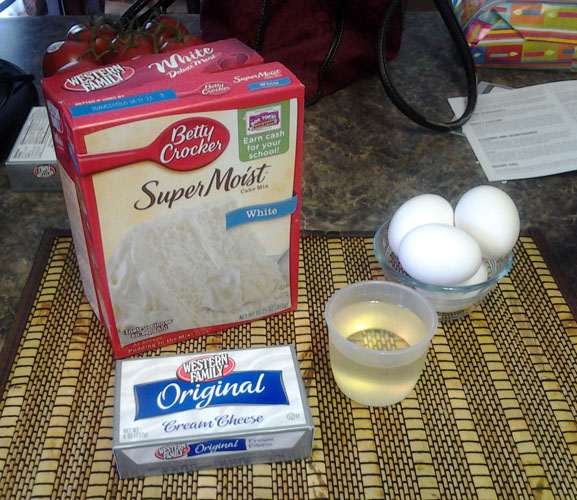 Preheat oven to 350 degrees F (180 degrees C).
Blend the above ingredients together until mixed, hands work best. Roll in balls about the size of a quarter and place on un-greased baking sheets.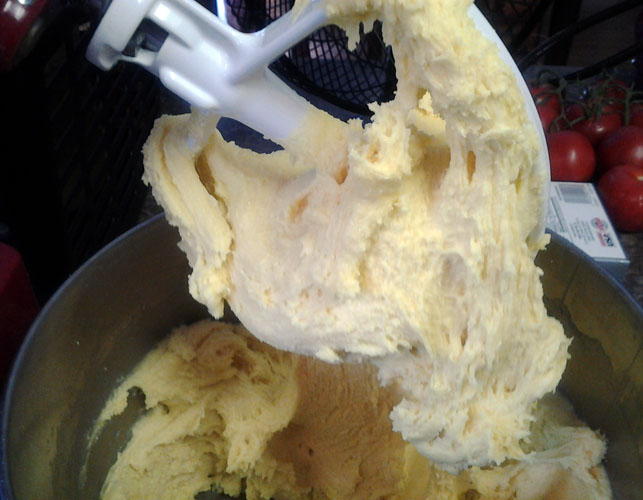 Make an even number of balls.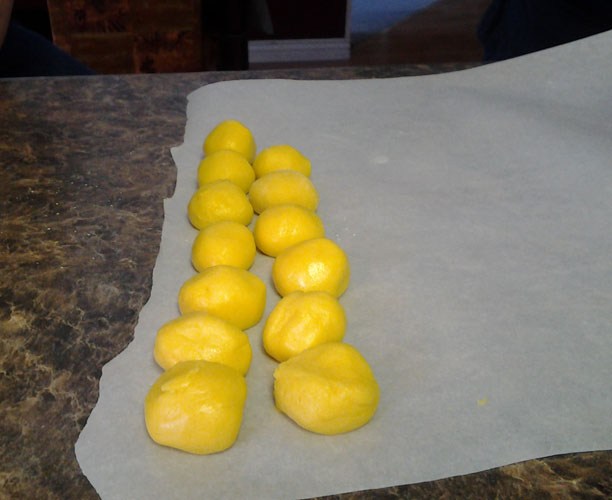 Bake for 10 minutes. Let cookies stand on cookie sheet for 5-6 minutes before removing them to cooling rack. After cookies have cooled, put Cream Cheese Frosting between two cookies, putting bottom sides together.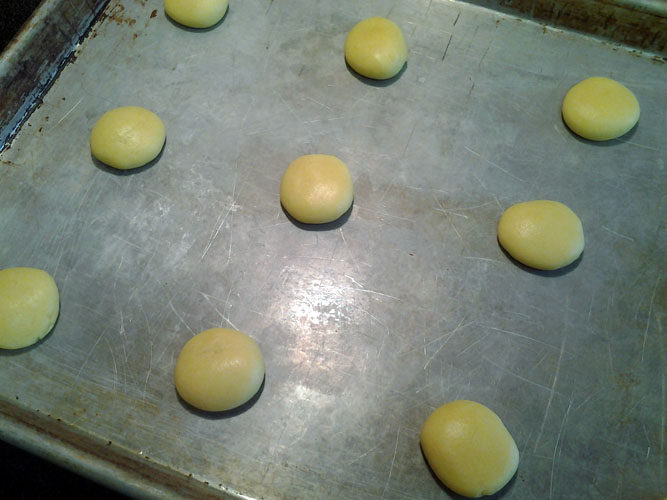 Here we have the finished Raspberry Lemonade and Almond Poppy Seed Cheesecake cookies.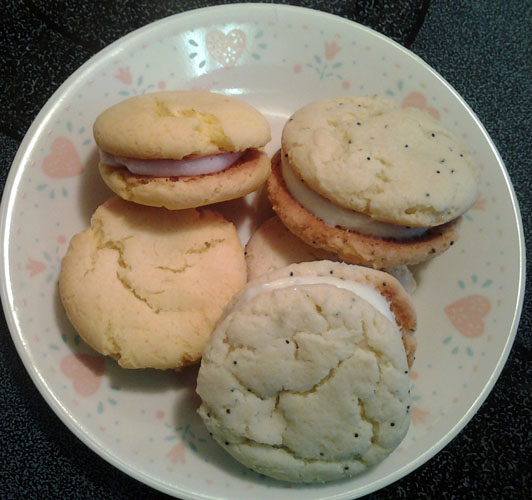 Here are some of our favorite combos:
Chocolate cake mix with plain vanilla flavored frosting, or add mint flavor and a little green color for a Grasshopper Cookie. You could flavor the frosting cherry or strawberry with a couple tablespoons jam or jelly.
Lemon cake mix with any fruity flavored jam or jelly to make cherry/raspberry/strawberry/ blackberry Lemonade cookies (my hubbys favorite)
Strawberry cake mix with chocolate filling, just add a tablespoon of cocoa powder to the filling.
Spice cake mix with some fresh ginger added to the filling, or pumpkin puree (just a little) and pumpkin pie spice to taste.
And here is my FAV! Almond Poppy Seed Cheesecake, add about half of a small can of almond paste or 3-5 Tbsp from a tube, 1 -2 tsp almond extract (personal pref here, I like mine really almondy) and 1 Tbsp of poppy seeds to the cake mix. Add the rest of the can or about another 3-5 Tbsp almond paste as well as another 1-2 tsp extract to the filling mix. It helps if you crumble the paste up or cut it into small pieces before adding it to either.
I hope you and yours enjoy these as much as my herd does!
Tags:
cookies
cookies
baking
family fun
cooking for groups
treats
kid fun
cooking with kids
Melanie Nelson said...
I love using Devil's Food Cake Mix, Mini Chocolate chips and then rolling them in powdered sugar. We call them Chocolate Crinkles. Thanks For this great post Bobbie!
Add a Comment
For all news items click here
News Releases
Online Classes
Clutter Free Living E-Learning Class
Every house has storage issues regardless of it's size. Double your storage space with simple principles that will keep your house clutter-free all day, everyday.
Growing & Using Sprouts Class
Sprouting seeds are packed with vital nutrients, protein, and minerals. They make a highly nutritional addition to your Food Storage.
Upcoming Classes
Featured Products
Find us on FaceBook