Navajo Tacos

This is a meal with a long history and I like food with history. It is fun to make foods that have stories with the kids. For more history and a more authentic fry bread recipe please go
here
.
In my family we use ordinary bread dough to make our fry bread or scones as we call them. For my history part: We had little money growing up and my mother did the best she could to keep our food budget as low as possible. That led to her making all our bread with a bread machine/wheat grinder she inherited from her sister. It soon became tradition that on the days she made the bread for the week we would fry the extra dough and have scones for dinner. We usually ate them with just honey and butter and we still do, but we save that for desert and eat this hearty version first nowadays.
That being said I have my easy version of this storied dish for you to try.
Easy Navajo Tacos
a batch of bread dough
a pot of hot oil for frying
your favorite chili (canned or homemade)
Toppings: lettuce, olives, salsa, guacamole, sour cream, cheese, tomatoes, green chilies, onions, peppers, honey butter, etc.
Method: take a wad of dough about the size of a ping pong ball and flatten into a disk like shown below.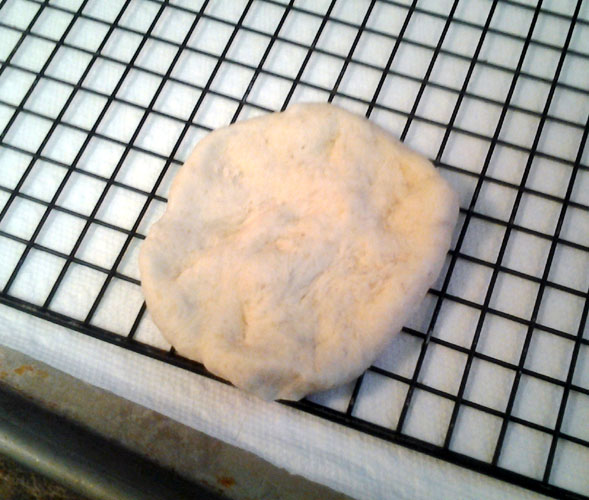 Carefully drop into the hot oil and fry until it is puffed and brown on both sides.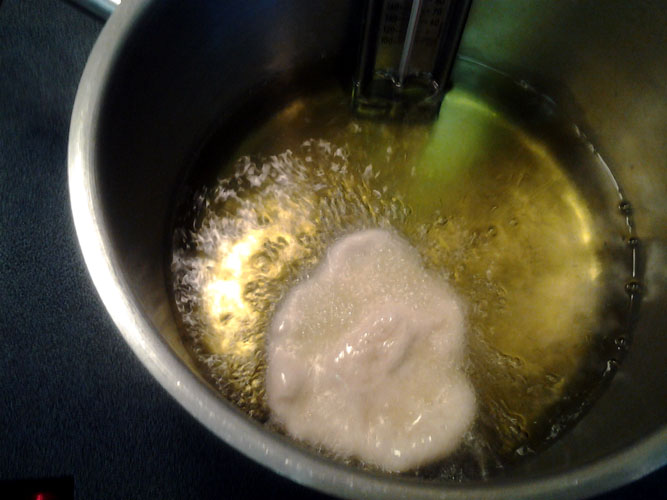 Let them drain and cool for a few moments on a wire rack turned upside down on paper towels. (This helps wick the oil away from the food without it getting soggy.)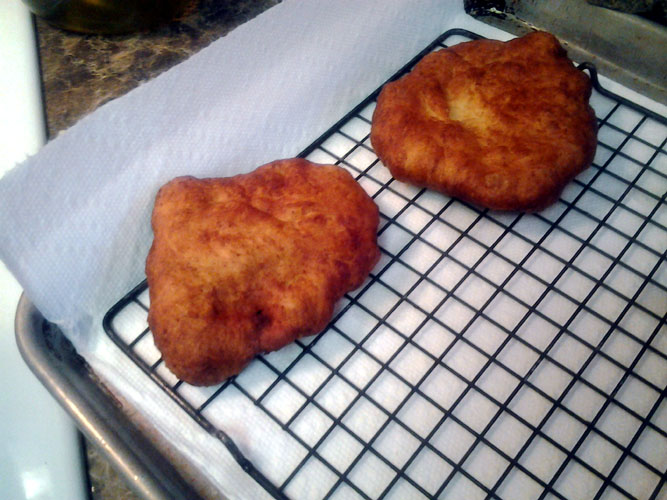 Now you can either eat with honey butter or dress up with the above mentioned toppings. It is a taste experience like no other and says comfort food to me like nothing else.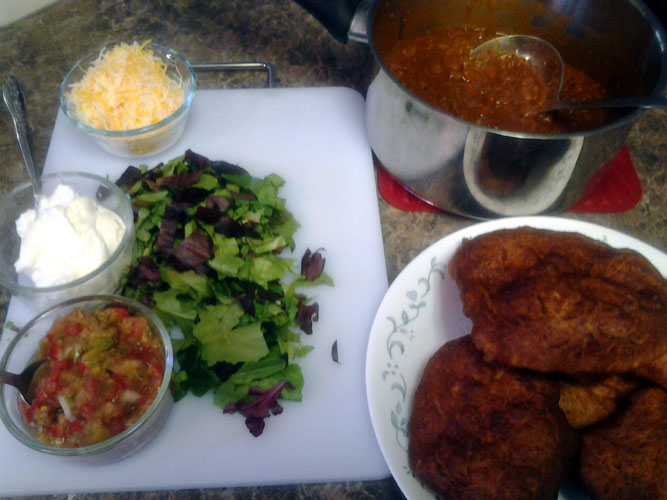 I hope your family enjoys it as much as mine does and Happy 4th!
~Bobbie
Tags:
taco
navajo taco
fry bread
scones
scones and chili
chili
bread dough options
summer meals
fun meals
historic food
educational food
For all news items click here
News Releases
Radical Rhubarb!
An old family recipe from a dear friend, Pat Green (aka - The greatest cook in the world!), with a new twist!
Release Date: 7/18/2021
---
Cooking in Quantity Group Freeze Meals
Making freezer meals in a fun group setting, but can take a lot of time if you let it. Mary Ann shows you how to organize and structure a freezer meal group that saves time and money for everyone.
Release Date: 1/27/2020
---
Creamy Broccoli Potato Soup
Bobbie shares a great soup to make on a cold day when you want comfort food but don't want to do a lot of work. It utilizes the things we pack away in the food storage and freezer as well.
Release Date: 1/27/2020
---
Online Classes
Eat Better for Less E-Learning Class
With the rising costs of groceries, you may have noticed your budget rising, too. Learn how easy it is to save money on groceries right now - No Coupons Necessary!
Clutter Free Living E-Learning Class
Every house has storage issues regardless of it's size. Double your storage space with simple principles that will keep your house clutter-free all day, everyday.
Upcoming Classes
Featured Products
Find us on FaceBook