Creamy Broccoli Potato Soup

Soup is a great way to pack in nutrients and use your food storage at the same time. While I love this recipe on a cold day, I love to
make in bulk
and freeze it in both family sized and
individual servings
for days when I need a quick meal. You can use fresh, dehydrated or freeze dried ingredients in this recipe so it's a great one to use when you need to rotate items in your food storage. Enjoy!
This is a wonderfully simple creamy soup that can be made anytime of the year mostly from your food storage.
Creamy Broccoli Potato Soup
32 oz. Chicken Stock (can use water w/ bullion added)
4 c. Water
3/4 c.
Powdered Non-Instant Milk
1/3 c.
White Cheddar Powder
1/3 c.
Cheddar Powder
3 c. Cubed Potatoes
1 lb bag Frozen Chopped Broccoli OR 2 cups
Re-Hydrated
or
Freeze-dried
from your storage
1/4 c. Dehydrated Onion
1 tsp.
Mustard Powder
1 tsp
Garlic Granules
1 tsp
Italian Seasoning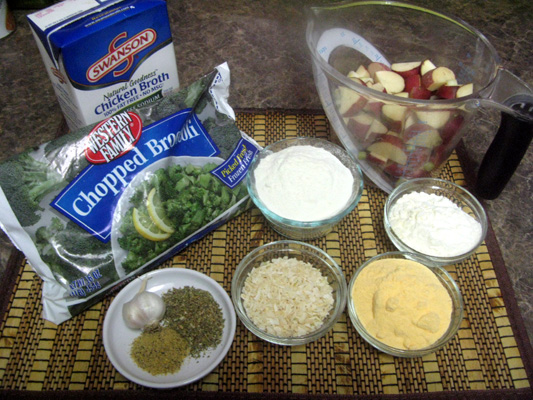 Mix together chicken stock, water, powdered milk, and cheese powders in a large pot with a whisk.
Add potatoes and boil until the potatoes are just barely tender.
Add broccoli and the rest of the seasonings and simmer for 15-20 minutes on medium low heat. (If you like your soup thicker, simply whip out the corn starch and cold water method to thicken to your desired amount. ) **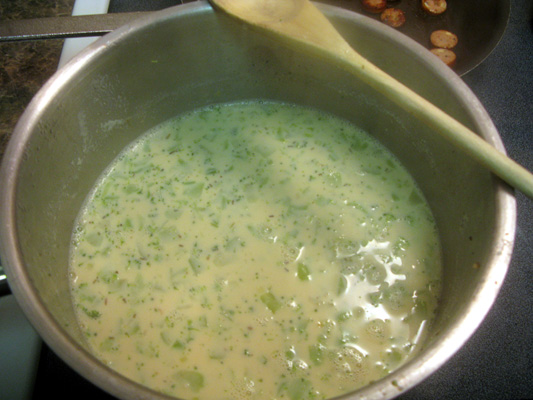 **Garbanzo bean flour is also a wonderful thickener, mix it with a little water and then mix it into your soup. This method needs more cooking than the starch method but it also adds more vegetable protein.
I like this soup topped with cheese and green onions but it is great right out of the pot or the refrigerator on a cold day.
Enjoy!
~Bobbie
Tags:
Creamy Broccoli Potato Soup
potato soup
broccoli soup
cheese soup
soup
pantry cooking
food storage cooking
food storage
For all news items click here
News Releases
4 Great Tricks to Save on Holiday Baking
4 Great DIY videos to help you save on some for your most used holiday baking staples. Quick and easy recipes that will save you time, money and a trip to the store!
Release Date: 10/20/2017
---
All Things Pumpkin
This blog collects all our fantastic pumpkin recipes and our pumpkin preparation blog. We also take the mystery out of Pumpkin Pie Spice.
Release Date: 10/1/2017
---
Creamy Broccoli Potato Soup
This is a great soup to make on a cold day when you want comfort food but don't want to do a lot of work. It utilizes the things we pack away in the food storage and freezer as well.
Release Date: 10/1/2017
---
Online Classes
Eat Better for Less E-Learning Class
With the rising costs of groceries, you may have noticed your budget rising, too. Learn how easy it is to save money on groceries right now - No Coupons Necessary!
Clutter Free Living E-Learning Class
Every house has storage issues regardless of it's size. Double your storage space with simple principles that will keep your house clutter-free all day, everyday.
Upcoming Classes
Featured Products
Find us on FaceBook