Volcano Collapsible Stove with a Dutch Oven

Recently I cooked a chicken and vegetable stew using my Volcano Collapsible Grill/Stove, a 10-inch Dutch Oven, and briquettes. While cooking I made the Volcano into an oven by using the optional accessory Volcano "Lid."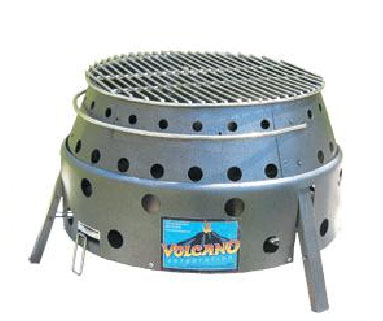 The Volcano's adjustable vents allow for controlling the fuel burn rate, and therefore the temperature. Normally when cooking with a 10" Dutch Oven you would use 20 briquettes. However with the Volcano you will use significantly less briquettes. In the attached video I used 14 of them, and it turned out that this was still too many. (I probably could have used half that amount.)
One of the other nice things about the Collapsible Stove is that you can cook with briquettes at two different levels. In this video you will see how I chose to cook at the higher level, but it really is up to the user's decision as both ways work just fine.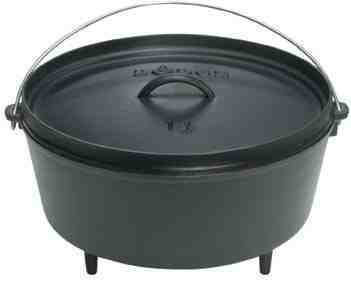 When using the Volcano you have the option of using wood, charcoal briquettes, or propane; here I opted to use briquettes. However, I often enjoy cooking my breakfast on our Volcano Collapsible Stove (sometimes referred to as the "Volcano II Grill") while using a cast-iron skillet and propane.
In the attached video you will notice that I have the Volcano sitting on a tablecloth. The Volcano has an internal heat chamber where the heat is contained. This allows the outside of the stove to stay relatively cool to the touch and to the table underneath.
Tags:
Volcano Collapsible Stove
Dutch Oven
alternative cooking
outdoor cooking
camping
dutch oven cooking
For all news items click here
News Releases
Super-size Your Stow-N-Go
A re-post from Mary Ann a few years ago. Brush up on storing items you need on the go in your car year-round.
Release Date: 11/13/2022
---
The Lunch Box Bug-Out Bag
From the Archive: Mary Ann shows you how to help your kids be prepared in case an emergency arises while they are at school.
Release Date: 11/4/2022
---
COVID 19 Tips
COVID 19 has many of us worried about the health and wellness of our families and our economy. Mary Ann shares a few ideas to help you keep a level head and perspective during these uncertain times.
Release Date: 3/30/2020
---
Online Classes
Growing & Using Sprouts Class
Sprouting seeds are packed with vital nutrients, protein, and minerals. They make a highly nutritional addition to your Food Storage.
It's About Time e-Learning Class
Life is busy - Learning to manage and prioritize your time is essential to how busy you FEEL. Learn to make more time for yourself, your family, and everything else!
Upcoming Classes
Featured Products
Find us on FaceBook