What Can I Make with Freeze Dried Sweet Potatoes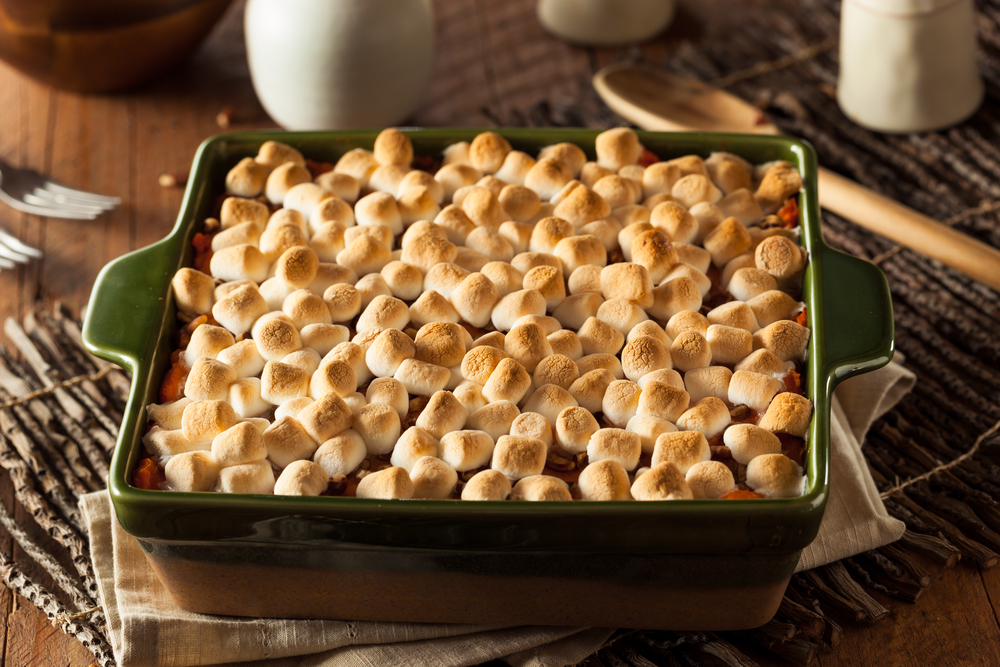 Freeze-dried Sweet Potatoes can be easily reconstituted and used as fresh. If you are a fan of sweet potato casserole, or glazed sweet potatoes at Thanksgiving, these work great! Top them with your favorite nuts, marshmallows, butter and your favorite spices and bake just 10 minutes. Easy-peasey!
You can also use them in baked goods. You will love this recipe for Sweet Potato Twists. They are delicious.
SWEET POTATO TWISTS
1/3 c butter or margarine
½ c packed brown sugar
¼ c corn syrup
½ c chopped pecans
2 ½ c biscuit mix
2/3 c mashed, reconstituted freeze-dried sweet potatoes
1/3 c milk
2 T softened margarine or butter
3 T packed brown sugar
Heat oven to 400 degrees. Melt 1/3 c butter in ungreased square pan in oven. You can also use a loaf or bundt. Any shape will do. Stir in ½ c brown sugar and the corn syrup. Sprinkle with pecans.
Mix biscuit mix, sweet potatoes and milk until dough forms a ball. Place dough on surface dusted with biscuit mix. Knead lightly 10 times. Roll or pat into 12 inch square.
Spread 2 T butter over dough. Sprinkle 3 T brown sugar over butter.
Fold dough into thirds; press edges together to seal. Cut crosswise into twelve 1 inch strips.
Twist ends of each strip in opposite directions. Arrange twists on pecan in pan.
Bake 25-30 minutes or until golden brown. Immediately place heatproof serving plate upside down onto pan; turn plate and pan over. Leave pan over coffee cake for 1 minute Serve warm. 12 servings.
12 c white flour
2 T salt
4 T baking powder (1/4 cup)
2 c shortening
3 c instant powdered milk or 1 1/2 c dry milk powder
Blend all ingredients with a mixer, pastry cutter or wire whip. Store in an airtight container until ready to use.
Tags:
freeze dried
sweet potato
holiday
savings
bulk buy
For all news items click here
News Releases
Radical Rhubarb!
An old family recipe from a dear friend, Pat Green (aka - The greatest cook in the world!), with a new twist!
Release Date: 7/18/2021
---
Cooking in Quantity Group Freeze Meals
Making freezer meals in a fun group setting, but can take a lot of time if you let it. Mary Ann shows you how to organize and structure a freezer meal group that saves time and money for everyone.
Release Date: 1/27/2020
---
Creamy Broccoli Potato Soup
Bobbie shares a great soup to make on a cold day when you want comfort food but don't want to do a lot of work. It utilizes the things we pack away in the food storage and freezer as well.
Release Date: 1/27/2020
---
Online Classes
Clutter Free Living E-Learning Class
Every house has storage issues regardless of it's size. Double your storage space with simple principles that will keep your house clutter-free all day, everyday.
Eat Better for Less E-Learning Class
With the rising costs of groceries, you may have noticed your budget rising, too. Learn how easy it is to save money on groceries right now - No Coupons Necessary!
Upcoming Classes
Featured Products
Find us on FaceBook