Emergency Lights
This is just the first few items of a remarkably useful article on emergency lighting from Cheryl titled "Bright Ideas to Keep the Lights On"
Get the full blog here
.
"Bright Ideas To Keep The Lights On"
When the power goes out having alternative lights will be invaluable. We need to have different types of lighting available for different uses and lots of choices ready at our finger tips. We need to ask ourselves the question…do we want to light up a whole room or have a bright beam to a specific area?
If what we have to use for light requires something to light it with we also need to have items stored like butane lighters, flint and steel, Sparkies or Blast matches and matches on hand? For matches I prefer the "Strike Anywhere" type. I also have waterproof matches in my Go Bag
Here is a list of options for lighting. These are listed in alphabetical order.
CANDLES:
Candles provide a soft, low light. Candles are cheap and easy to obtain and to store. The open flame presents a fire hazard and does consume a small amount of oxygen use withcare. Candles do not give off enough light for reading by. Do not leave unattended or have near drafts. Candles have an indefinite shelf life. Store in a cool place.
¾" diameter x 4" burns about 2:20 hours
7/8" diameter x 4" burns about 5 hours.
2" x 9" burns about 75 hours
Tea light burns 2-4 hours
The Red Cross
does not
recommend using candles during a blackout as they have proven to be a major source of fires during an outage.
COOKING OIL:
Emergency candles can be made from cooking oil. Take a piece of string, lay one end in cooking oil and allow the other end to hang over the edge of jar. Light the dry end. Use 7-8 stings for more light. These are very smoky and
should be used only when nothing else is available
.You can use new, rancid or used strained oil.
*Floating wicks are available to use in oil and make this method much safer.You can purchase these on Amazon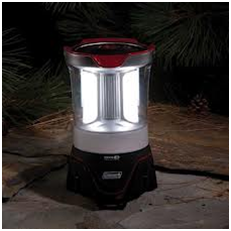 BATTERY LANTERNS:
Nice for general lighting. Available with florescent or LED bulbs which make the batteries last much longer.
They are usually battery operated but there is also a hand crank model available with LED bulbs that claim to last for 20 minutes after 60 seconds of cranking. They are usually not very bright and do require stopping every 20 minutes or so a crank it up again.
EMERGENCY CANDLES (also called 100 hr candles):
Come with a plastic base that is filled with liquid paraffin. It is smokeless, odorless, and has no hot wax to make a mess. It may last for over 100hours. Stores for 10+ years.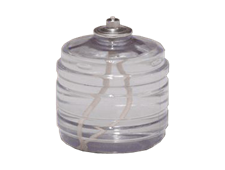 FLASHLIGHTS
: They provide a quick, reliable source of light and are available in a wide variety of shapes and sizes. A2-battery flashlight with new batteries will work for @ 6 hours. For long-term storage: don't store batteries in flashlights. Store extra batteries and bulbs.
Always buy quality.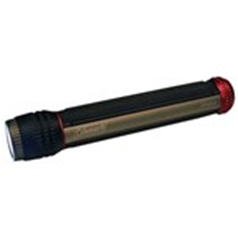 What to look for in a flashlight (adapted from survivalblog.com)
Small and lightweight: They use fewer batteries and can be carried in a pocket.
Use a common battery size: Most use: AAA, AA, or D cells. Smaller charge faster.
Uses a variety of battery types: alkaline, lithium, or rechargeable batteries
Fewer batteries is better: fewer used=fewer to store
Simple to operate

Well constructed:

Bulb protected, shock resistant and water resistant/proof, and that won't accidentally turn on while in your pocket or backpack.
LED/Cree bulb: Lasts 10,000 hours, shock resistant, brighter
Good compromise between output and run time: 8-12+ hrs per battery/charge
Quality of light beam: wide beam vs. bright spot. What do you need it for?
Lanyard hole/clip: Loop w/cord or ring to attach to you to prevent accidental loss.
Caring for your light: Unless using lithium's, don't store batteries in flashlight.
Very important!

Periodically check your flash light and batteries to make sure that they will work when you need them.
We found out the hard way that the new batteries that we had stored for a year in our 72 Hour kits (not in the flash lights) were low on power.
Stock up on LOTS of batteries if this is your choice for lighting. Stores run out quickly in an emergency.
Many many more options are covered in the full blog:
See it here
Tags:
emergency lights
lighting
candles
flashlights
emergency preparedness
power outages
For all news items click here
News Releases
Everyday Water Filtration
Mary Ann gives you some great ideas for getting the most from your filtering water bottles. Saving them only for emergencies, isn't as practical as you might think...
Release Date: 4/6/2023
---
Super-size Your Stow-N-Go
A re-post from Mary Ann a few years ago. Brush up on storing items you need on the go in your car year-round.
Release Date: 11/13/2022
---
The Lunch Box Bug-Out Bag
From the Archive: Mary Ann shows you how to help your kids be prepared in case an emergency arises while they are at school.
Release Date: 11/4/2022
---
Online Classes
Clutter Free Living E-Learning Class
Every house has storage issues regardless of it's size. Double your storage space with simple principles that will keep your house clutter-free all day, everyday.
It's About Time e-Learning Class
Life is busy - Learning to manage and prioritize your time is essential to how busy you FEEL. Learn to make more time for yourself, your family, and everything else!
Growing & Using Sprouts Class
Sprouting seeds are packed with vital nutrients, protein, and minerals. They make a highly nutritional addition to your Food Storage.
Upcoming Classes
Featured Products
Find us on FaceBook