Homemade Marshmallow Creme

Marshmallow Creme is super easy to make!
During the holidays, there is a lot of cooking to be done. Marshmallow Creme is one of those ingredients that can be super expensive if you are making a recipe that calls for more than one jar. It's an ingredient that's pretty common in fudge, sweet potato, pie, and treat recipes.
Save yourself a bundle by making it yourself. You can save up to 85% of the cost at the store by making it at home and it only takes 5 minutes!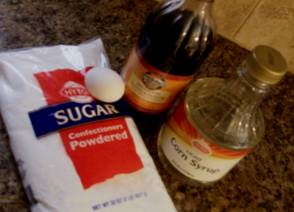 You Will Need

5 minutes
An electic mixer (hand-held or stand)
1 c Corn Syrup
1 egg white (you can also use dehydrated eggs)
1 c Powdered Sugar
1 t Vanilla Extract
Watch the video first! Britney has lots of really good insights for you!
In summary, the recipe steps are as follows:
Beat the egg white until foamy.
Pour Corn Syrup in to the egg whites in a steady stream until totally incorporated.
Continue to mix on high for 2-3 minutes. (2 minutes for softer peak, 3 minutes for firm peaks)
Add Vanilla
Mix in powdered sugar 1 cup at a time until totally dissolved.
That's it! We hope you find lots of uses for this recipe this holiday season!
Let us know how it goes by typing your comments and questions below!
Tags:
Marshmallow
cooking
substitutions
For all news items click here
News Releases
Online Classes
Growing & Using Sprouts Class
Sprouting seeds are packed with vital nutrients, protein, and minerals. They make a highly nutritional addition to your Food Storage.
Clutter Free Living E-Learning Class
Every house has storage issues regardless of it's size. Double your storage space with simple principles that will keep your house clutter-free all day, everyday.
Upcoming Classes
Featured Products
Find us on FaceBook