Halloween Drinks

What is a party without cool drinks? Abstaining from alcohol as my family and friends do makes party drinks often boring or just more 2 liter bottles of the same old soda. Not for my Halloween parties!
It is amazing what a little creativity and a trip to the thrift store for funky bottles can do to your drink table: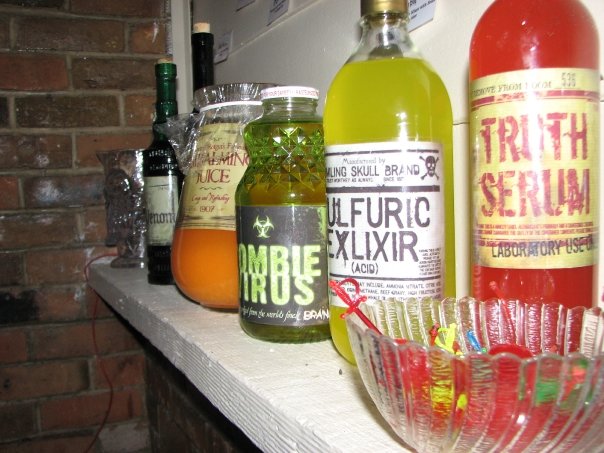 I got these labels at the local Dollar Tree and after 2 trips to the local thrift store I got bottles for them. The really creative part was mixing up the drinks. Even the most basic of lemon-lime carbonated drinks becomes something special with the additions of fruit juices, non-alcoholic mixers, and flavor syrups.
Here are some of my favorites (the amounts you add are up to your personal taste):
Embalming fluid:
Orange soda & pineapple juice
Blood:
Lemon-Lime soda, Pomegranate Juice, & Cranberry Juice
Sulfuric Elixir:
Lemon-Lime or Mountain Dew, Sweet-Sour mixer, Lemon Juice
Spider Venom:
Soda Water, Blueberry Juice, & Blue Raspberry Syrup (
Torani
is best)
Zombie Virus:
Soda/ Tonic water & Green Apple syrup (
Torani
is best)
Liquid Phantom:
Soda/ Tonic water & Blue Raspberry Syrup (
Torani
is best)
These last 3 with soda or tonic water and syrup are the first 2 steps in a really delightful drink, all you have to do to them is add some cream, whipped or unwhipped, to make a fantastic and delicious italian cream soda. I often serve cream on the side with the drinks saying something like "the spider venom is strong and best cut with a little cream..."
Yeah I know, I am a little odd.
A note on Tonic Water, tonic water is cool but you have to be cautious with it. It contains Quinine and will glow under black lights. It is a really cool effect but it may be bad for some of your guests so get acquainted with it if you are going to use it:
http://en.wikipedia.org/wiki/Tonic_water
Above all for a successful Halloween party, have fun!
Tomorrow our last part on Halloween party activities.
For a bunch of non alcoholic drink ideas try these sites:
http://www.drinksmixer.com/cat/8
/ &
http://www.drinksmixer.com/cat/198/
http://www.recipe.com/recipes/drinks/non-alcoholic/popular/
http://allrecipes.com/recipes/holidays-and-events/halloween/halloween-drinks/viewall.aspx?page=1
Tags:
halloween
party
halloween costumes
costumes
party ideas
halloween party ideas
party food
halloween treats
for kids
for adults
drinks
non-alcoholic drinks
drink recipes
party food
For all news items click here
News Releases
Online Classes
Growing & Using Sprouts Class
Sprouting seeds are packed with vital nutrients, protein, and minerals. They make a highly nutritional addition to your Food Storage.
Eat Better for Less E-Learning Class
With the rising costs of groceries, you may have noticed your budget rising, too. Learn how easy it is to save money on groceries right now - No Coupons Necessary!
Upcoming Classes
Featured Products
Find us on FaceBook