Mixing Cookies and Beans



Black Bean Brownies
Hello again! OK, so apparently black bean brownies are no stranger to anyone but me. BUT, just in case you haven't made them yet, I just HAD to share. SUPER easy and quick and taste GREAT! They are also MUCH healthier (more fiber and protein, less fat!) than your regular brownies. They give you a nice fudgy brownie and my whole family loves them. I will update a homemade brownie recipe using black beans when I come across one I really like, but for now we just use the box mixes.
All you need is: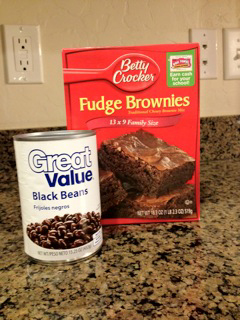 1 boxed brownie mix
Water as called for on brownie mix box
1 15 oz. can black beans, drained
Puree your black beans in the blender until smooth. Mix the beans, brownie mix, and water all together in a bowl. Follow baking instructions on the box!
Seriously, it's just that easy. Enjoy! :o)
White Bean Peanut Butter Cookies
After my awesome success with my black bean brownies, I couldn't wait to try out another bean substitution I'd been hearing about for years and just haven't gotten around to doing . . . pureed Great Northern white beans for butter. Seriously. So . . . I share with you the following white bean/whole wheat flour peanut butter cookies that are (and I quote my 4 year old) "the best cookies you have ever made in the whole world!" and the neighborhood kids agree! Now I've made a lot of cookies in my day and she hasn't tried them all, but I have to agree that they are pretty darn good. Yum!! Remember - less fat, more fiber and protein!
Britney's White Bean Whole Wheat Peanut Butter Cookies:
1 15 oz. can Great Northern white beans, drained
1 c. peanut butter
1 c. sugar
1/2 c. honey
1 tsp. baking soda
1 tsp. baking powder
2 eggs
1 tsp. vanilla
3 c. whole wheat white flour
1 bag cinnamon (or butterscotch baking or peanut butter) chips (optional)
granulated sugar
1. Puree your white beans in the blender. Scoop out and put in large mixing bowl. Beat beans with peanut butter on medium to high speed for 30 seconds. Add the sugar, honey, baking soda, and baking powder. Beat until combined, scraping sides of the bowl occasionally if necessary. Beat in the eggs and vanilla. Beat in the flour. Stir in cinnamon chips in desired. (If necessary, cover and chill dough in refrigerator until easy to handle.)
2. Using your Medium Sized Cookie Scoop, shape dough into balls. Roll in additional granulated sugar to coat. Place balls 2 inches apart on an ungreased cookie sheet. Flatten by making crisscross marks with the tines of a fork.
3. Bake cookies at 375 degrees for about 10 minutes or until bottoms of cookies are lightly browned. Let cool on wire rack. Makes about 5-6 dozen cookies. (We like to eat a lot of dough . . .)
Enjoy, and don't forget to dip in milk. Ahhh . . . warm, healthier cookies. Perfect.
Tags:
cookies
chocolate chip
peanut butter
brownies
beans
baking
goodies
drop cookies
For all news items click here
News Releases
Online Classes
Eat Better for Less E-Learning Class
With the rising costs of groceries, you may have noticed your budget rising, too. Learn how easy it is to save money on groceries right now - No Coupons Necessary!
Growing & Using Sprouts Class
Sprouting seeds are packed with vital nutrients, protein, and minerals. They make a highly nutritional addition to your Food Storage.
Upcoming Classes
Featured Products
Find us on FaceBook