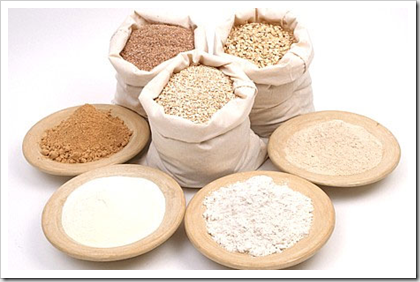 In our experiments with gluten free flours we are learning an awful lot and are keeping our discoveries here to share. We hope someday soon to offer the best blends to you in our store as soon as we perfect them.
Use

Blend

Results

General Flour Use

1 part sorghum flour
1 parts rice flour
1 part bean flour
1 part tapioca flour

Decent in baked goods as
long as using a light bean
(white or black if in
something chocolatey).
Works well for pancakes
and biscuits, need to try
in bread machine.
Thickens soups and sauces
well.


Perfect for Cookies



2 parts Rice Flour
(white or brown)
1 part Potato Starch
1part Soy Flour
1part Tapioca Flour

This blend made very
good cookies. It was
light tasting and the
starches helped it hold
onto moisture. Need
to try in cake. Recipes
to try: Chewy Chocolate
Chip Cookies

Best in Cakes





Best Bread Dough























Please feel free to leave comments and questions.
Online Classes
It's About Time e-Learning Class
Life is busy - Learning to manage and prioritize your time is essential to how busy you FEEL. Learn to make more time for yourself, your family, and everything else!
Clutter Free Living E-Learning Class
Every house has storage issues regardless of it's size. Double your storage space with simple principles that will keep your house clutter-free all day, everyday.
Growing & Using Sprouts Class
Sprouting seeds are packed with vital nutrients, protein, and minerals. They make a highly nutritional addition to your Food Storage.
Upcoming Classes
Featured Products
Find us on FaceBook